Singing students to success
New choir director ready to unlock student potential
From opera to elementary, Joleen Kragt, the new choir director, has done it all. She started out as an opera singer for 15 years but after a vocal injury she moved to musical theatre, and finally K-12 vocal education. Now, Kragt's journey has brought her to Lake Zurich where she will be directing a period of Bel Canto, a non-auditioned soprano and alto choir and Blue Notes, the show choir. She will also be teaching a middle school guitar class.
Last year, both Angela Fortune, previous fine arts and business department chair and Blue Notes Director, and Melissa Touvannas, previous director of Bel Canto retired, leaving an opening for Kragt to join the Lake Zurich High School Music Department.
"She's like a ray of sunshine," Nevaeh Bos, senior, said. Bos is in her second year in Blue Notes and says, "she is the sweetest person ever. On the first day she was just so welcoming and she gave us all these pink sparkly binders. You can tell how much she cares about us girls and show choir and choirs in general and anything in the arts basically. You can tell how dedicated she is already to it."
Kragt has been dedicated to teaching high school for several years as the choral director at Johnsburg High School and then the choral director at Saint Viator High School in Arlington Heights. She has taught middle school classes in the past but she says high school is her jam.
Teaching high school students is a passion for Kragt, because "kids are so full of potential and [high school students] have made it through elementary school, made it through middle school, and now they're on the precipice of going out into the world and really pursuing something. High school kids have all this potential and they're really starting to get serious about pursuing something. So [teaching high schoolers] is my chance to help them find that little nugget and help them on their journey," Kragt said.
With a wide depth of experience including singing opera professionally for 15 years and having a bachelor's degree in music education and a master's degree in vocal performance, Kragt hopes to inspire students and help them reach their potential, according to Kragt. 
"I hope I'm a good role model. I had a career singing and I know what it takes. Because I know what it takes I can see that in a student. Sometimes they don't have the confidence but you see the desire," Kragt said. "And so you just start bringing it out of them and give them opportunities and teach them and befriend them. Building relationships with people is so important, whether it's in music or not, relationships are the most important thing."
Positive relationships are already forming in Blue Notes, where she "wants to know everyone individually," Bos said. She has started implementing some changes in Blue Notes, which Bos is excited for. 
"[Kragt] used to do competitive show choir. She's had a ton of experience with show choir. I know that she's going to add a ton of costumes and everything and she's brought in professional choreographers. So it's like all this stuff that we didn't have much of last year. I'm just excited because there's just a ton of hope [for the future of Blue Notes]," Bos said.
Not only is she implementing exciting changes to Blue Notes, Kragt is adjusting  to her other classes and the music faculty who have been "nothing but phenomenal," according to Kragt. 
As she starts the year, Kragt wanted to let all her students know that, "I'm here to serve you. I'm here because of you. I want to bring out the very best that you have. I want to help find your potential and then take off from there. But you're the reason I'm here, my students are the reason I'm here. And I just want you to know you're my priority. I love my kiddos. I love my students."
Leave a Comment
About the Contributor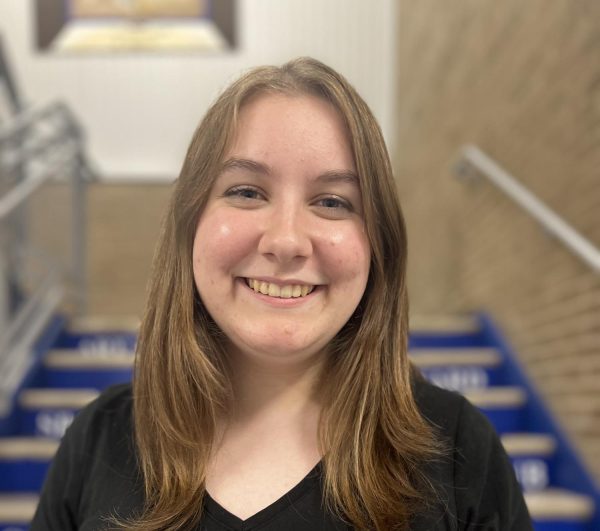 Emma Harper, Magazine Editor-in-Chief
For her third and final year on the Bear Facts staff, Emma will be serving as Magazine Editor-in-Chief for the first time. After high school, Emma hopes...