LZ takes on COVID with new school plan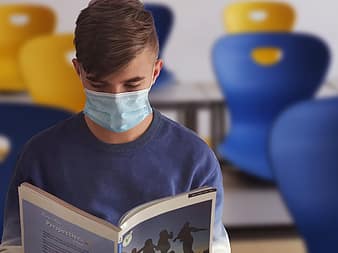 As summer comes to a close and the school year begins, LZHS has made numerous changes to adjust to COVID 19.
Due to delays for in-person school, all students will partake in e-learning lessons in the beginning of the year starting August 24 but may be returning to in person school later on.
"We are starting the school year with our remote learning plan," Ryan Rubenstein, assistant principal, said.  "The tentative date to go back at this point is September 28 for freshmen and then the following October 16 would be for sophomores, juniors and seniors."
However, when students return for hybrid schooling, they will not have the typical school schedule in an attempt to permit better social distancing while students are on campus. 
"The elearning schedule has us going to classes every day of the week. Periods one through five on Mondays and Wednesdays, and then periods six through nine on Tuesdays and Thursdays.  Fridays are every period but some of those will be asynchronous," Rubenstein said.
Parents and students had the chance to vote to either attend hybrid schooling or to continue with remote learning during the year.  Students who have decided on going back to school will be separated to control population density, split alphabetically so that only half the amount of students are present on each in person day.  Rubenstein also says that "students will be required to wear masks, for sure."  Additional steps are also being taken for proper social distancing.
"We've done a few other things around the building or are in the process of getting them completed," Rubenstein said.  "Each of the classrooms we've removed additional desks and those types of things to make sure that there's six feet of distance between each of the students desks and we also created some one way hallways."
As for sanitation, the school has also taken measures to try and make sure that the school conducts germs less.
"Over the summer we hired additional custodial staff that were approved by our Board of Education, and then once students are in the building they have procedures in place for those high touch areas throughout the day, including bathrooms and door handles and all of those different types of things. There's additional people on the night crew as well."  Rubenstein said.
Not only are changes being made to the layout of the school and it's cleaning regimen, but Rubenstein says changes have also been made to classes such as physical education.  P.E. will still be held but students will not be changing for PE when back on campus.
"Some athletics have actually started already," Rubenstein said.  "Boys and girls cross country and boys and girls golf and tennis are all starting.  We're also working with our students and our activity sponsors to see how we can run clubs both virtually throughout the month of September and if we're back in the building in October or November how we can make those things work."
Although many things are different to make returning to the school building safer, some students like Chloe Kaczmarek, sophomore, are optimistic, but unsure if students will comply with the rules.
"I'm hoping that everything goes well, I know it's required to wear masks and I think it's good that our school is making everyone wear them, but you know the students here.  They probably won't all listen,"  Kaczmarek said.  "All it takes is one sick student not following rules to send everyone back. It might just be easier to do e-learning."
Since things with COVID are always changing, most of the plans for students to get back on campus are tentative, Rubenstein says, so as the situation progresses, the school will continue to make changes as needed.
"We're excited for people to be back at school," Rubenstein said.  "There was a quote that I saw a couple weeks ago and it said even though the buildings are closed, school will go on. We just need to be supportive of the students and our teachers and everybody else to make sure that this is a successful year"
About the Writer
Kara Yoon, Staff Writer
As a sophmore, Kara will be going into her first year on the Bear Facts Staff.  If you were to spot her, you'd probably see her riding her bike around...