An unconventional end: class of '20 graduates via drive-through
Nothing about schooling in 2020 has been normal, and seniors who graduated last weekend in LZHS's first-ever drive-through graduation now have one more reason to call their last days as an LZ Bear unforgettable. 
"It's insane to think that we'll be the only people in history to have something like this," Rachel Maldonado, 2020 graduate, said. "Ten years from now, it'll be so crazy and interesting to look back on this and tell our kids about our unique high school graduation."
Due to a surge in Covid-19 cases in early July, District 95 administration altered the original plans to have students graduate in the field house in small, staggered ceremonies. Instead, graduation was a "drive-through" affair for the 398 students who participated July 16-18. Each graduation event included an audience seated in their own cars within spaced-out parking spots in the PAC lot, a radio broadcast of speeches, and individual picture opportunities on the stage.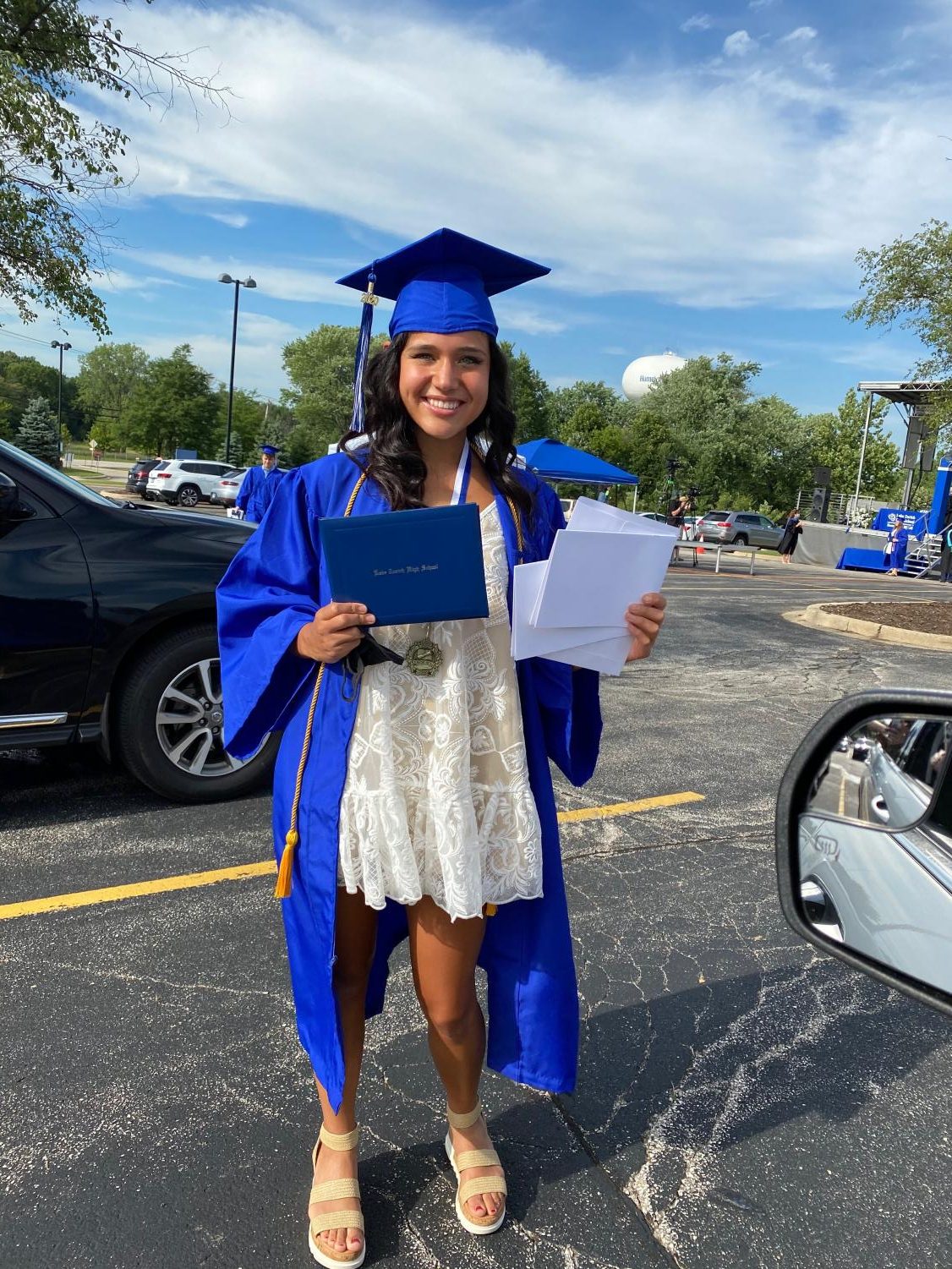 "It wasn't really what I expected," Zach Richards, 2020 graduate, said. "It was nice to have closure since we had been waiting ever since the parade. I just wish I could have seen my teachers again since I never really got to say goodbye to them."
Although the 2019-2020 school year did not come to an end that anyone expected, the class of 2020 still made the most of their last LZ moments. 
"I honestly had worse expectations, but I thought it actually turned out really cute and nice, and even though it was totally different, I'm really grateful we were able to still have [graduation]," Maldonado said. "I was sad that my peers and I couldn't sit next to each other, but honestly I didn't think it was that big of a deal and it was nice being with my family too because I was able to still experience it with the people that I cared about."
While most graduates agree that this year's graduation was not the one they had been hoping for, there were some benefits to the drive-through format. 
"In terms of temperature, it was way cooler to sit in my air-conditioned car," Maldonado says, while Richards added the ceremony "was a lot shorter than traditional graduation ceremonies. It was nice to not have to sit through a longer ceremony where you listened to everyone's name. Also, I've never really had a situation where everyone is actually beeping for applause so I'll always remember walking across the stage and them reading my honors while a bunch of cars was just beeping at the stage."
All beeping aside, graduates say the ceremony may have been unorthodox but was definitely one for the history books. Now, no matter what happens next for the class of 2020, this year's seniors will have a good story ready for when their kids graduate high school themselves.