Veteran Flightless Honor Flight canceled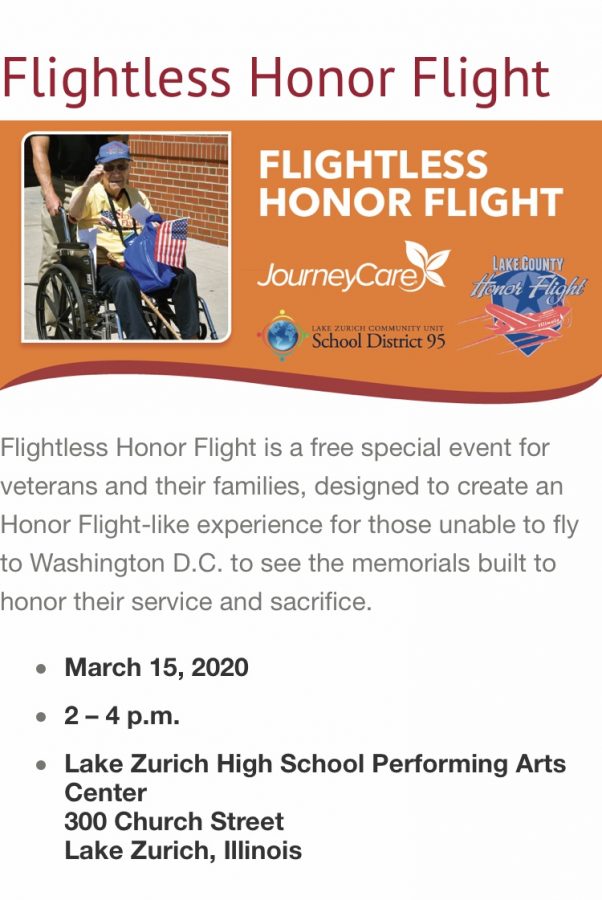 The Flightless Honor Flight is a chance for veterans who are unable to fly for whatever reason to get their Honor Flight. The event was originally scheduled for March 15th from 2:00-4:00, but has been canceled due to recent CDC guidelines for older people, in light of coronavirus concerns. 
However, according to an email by Jean Malek, director of communications & community relations, the event will hopefully be rescheduled when "the risk of serious illness is reduced."
"The community participation is one of those things that I'm looking forward to," Ryan Rubenstein, assistant principal, said. "Our own students are involved in this and writing thank you notes for the mail call and all of those types of things."
While the Flightless Honor Flight has been canceled, students are still encouraged to write thank-you letters to veterans, says Rubenstein, which will be forwarded to the veterans.  The mail call is a way to give the veterans short cards displaying gratitude and appreciation for all that they have done. 
"I hope that they are able to see and appreciate the [gratitude] that they're being given, and what an honor it is for us to be able to honor them," Rubenstein said. "I hope the impact on them is just that they see that they are still honored for their service and that we appreciate the things that they have done and sacrificed for us and our country."
These veterans may not be able to participate in an Honor Flight due to health concerns, but student letters will still indicate gratitude towards the veterans and all they have done for the country. 
"Well, for me personally, I'm just excited about honoring these veterans, you know they've given up so much and done so much for our country throughout, not just their service time but the time after their service," Rubenstein said. " Just to be able to honor them for even a short period of time is what I'm most excited about."
About the Writer
Kaitlin Geisler, Social Media Manager
Sophomore, Kaitlin Geisler is on her first year on staff and taking on the Social Media Manager position. Besides Bear Facts, Kaitlin is involved in Yearbook...