Joanie's Closet to host Valentine's Dance fundraiser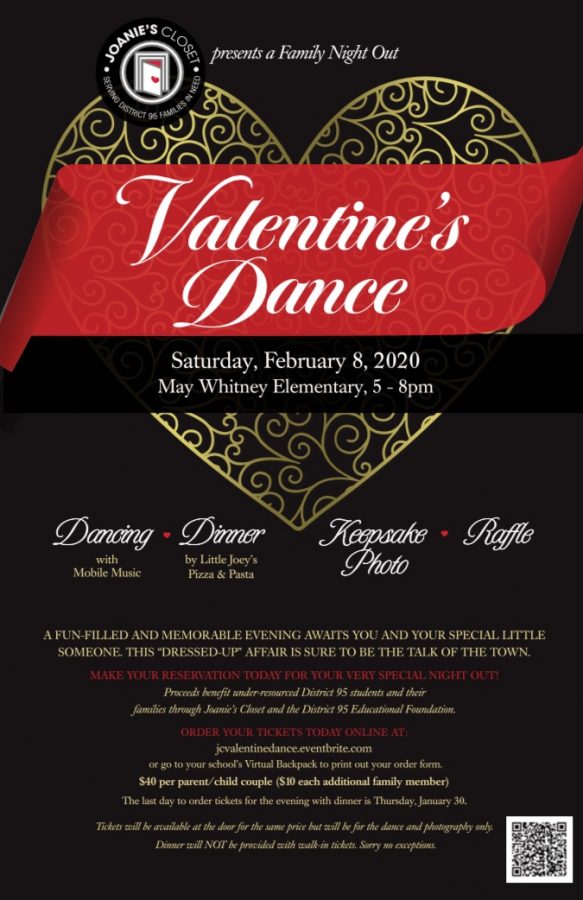 Becky Tartakovsky, Bear Facts Contributor
February 7, 2020
Joanie's Closet is hosting a Valentines day fundraiser dance at May Whitney for their cause, open to all family members.
As a May Whitney nurse, Joanie independently began to help students with basic needs like food, clothing, and school supplies. "She passed away unexpectedly, and when she passed away, Joanie's Closet was founded as a way to continue the good work that she was doing with students in the district." Ann Marie McConnell, 2 year co-president of Joanie's Closet, said.
On Saturday, February 8, the Valentine's dance for Joanie's closet will be held from 5-8 pm at May Whitney. Each ticket for the parent and child together is $40 and an additional $10 per family member.
The dance proceeds go to buy school supplies like coats, hats, and gloves for the students and their family members. "We use all of the proceeds from the dance plus grants that we get from other organizations to fund everything that we do." McConnell said."[The valentines dance] is an opportunity to give back to students in our community." McConnell said. "And I'd like to see Joanie's closet continue to grow."
The Valentine's dance at May Whitney is on their eighth annual year. "Our Valentine's dance is unique. It's a family event." McConnell said. "Most people when they have a dance, it's a daddy daughter dance so it's a great opportunity for families to come." 
"It's a great night with family and the proceeds all go to a really good organization," McConnell said. "It goes directly back to the students in our community so it's a great way to support." The main mission of Joanie's closet is to help under resourced students and the Valentines dance does just that.