Nursing career night to provide educational opportunities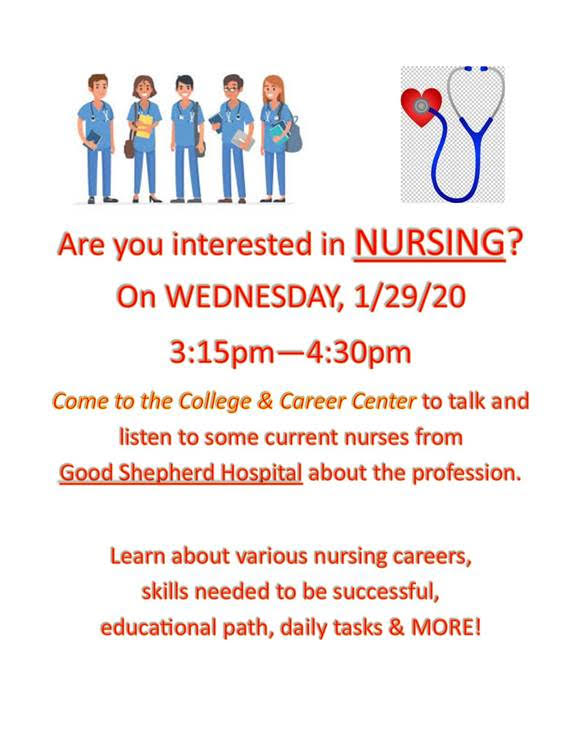 Kara Yoon, Bear Facts Contributor
January 28, 2020
For students who may be interested in future careers in nursing, an informational function will be provided by Good Shepherd Hospital in collaboration with the school.
The event is going to take place on Wednesday, January 29, 3:15 pm-4:30 pm at the College and Career Center for any students interested.  It will entail meeting with real nurses from Good Shepherd Hospital, who will provide first-hand insight into different jobs within the nursing field and ways that students can start pursuing nursing early on.
"Bringing in this panel of nurses will at least give the students interested in that career a chance to ask about what the current education paths are," Jeanette Greco, career site mentor and organizer of the event, said.  "It gives the opportunity to ask about daily duties, what the technology is that [nurses] use [and] what skills are needed to pursue that career," 
The meeting is a way for students to open the door to the medical field, which can be a "very difficult" for students to get into, Greco says.  This is partially due to the Health Insurance Portability and Accountability Act, which only allows doctors and nurses to access patients' health information, making it hard for students to get the chance to partake in hospital functions.
"This is just a very informal opportunity, but it gives good and current information so it's a wonderful opportunity if you're interested," Greco said.  "Even if you don't want to be a doctor, but you still want to be involved with the medical field, then this type of thing will definitely open your eyes to what's available."