ACT to implement test-taking changes
ACT allows students to retake individual sections
Students will be able to retake individual sections of the ACT starting next September, opening a renewed debate on just how standard standardized tests are.
Officials at the ACT say that students will be able to retake each of the five parts of the exam. This change will undoubtedly improve scores on individual sections but may result in unintended consequences, Simi Pugazenthi, junior, says. 
"I feel like they're trying to become more modern and more innovative and this is their way of doing it, but I think in the long run, colleges are going to lose respect for the ACT because of it," Pugazenthi said. "With the ACT, there's not going to be that much variety of scores anymore."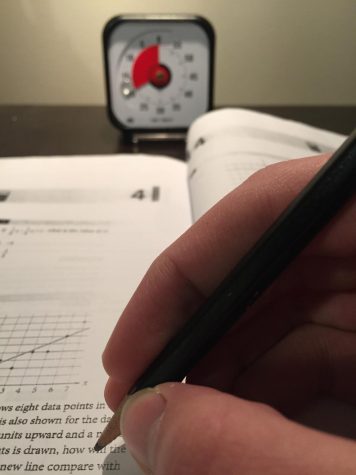 There may be consequences to this lack of variety, Pugazenthi says, including that schools are going to start preferring SAT scores, since this new change may "invalidate the ACT." In fact, Pugazenthi also argued that "in actuality, if everyone is doing amazing then nobody is doing amazing because that's the standard."
One main reason why students will start doing much better is that the changes will just feed into the testing frenzy, Allison Levato, guidance counselor says. According to Levato, the ability to retake certain sections will just encourage more preparation for the tests.
"I think it's worsening a problem of standardized test-taking being almost like an extracurricular activity for some kids. People are going to know how to play the game even further, and they're going to know they can focus on this [one] test and do prep only for that, [which will] increase their score [if they] just continue to take it multiple times," Levato said. "I think that it will just widen the gap of our scores of students who can afford prep in that way and students who can't."
For those who can afford preparation, they will be able to just focus on one section to raise it to that 34 to 36 range, and "just continue that cycle of taking the test over and over again," Levato says. If there is an opportunity to retake only certain sections instead of the whole test, "of course I'm going to take it," Ellie Oh, sophomore, says. 
"Since it changed, I don't need to retake those sections that I did really well on. So now I can just go back and fix those areas that I got wrong, which will improve my score a lot," Oh said. "[The changes] would make [preparing] easier because I would know which section I need to improve on, so I would just have to look over those parts, instead of worrying about the entire section. I would need to put in less time instead of going over the entire test."
Targeted preparation is not the only advantage that comes with this change, Pugazenthi says. According to Pugazenthi, who has taken the ACT but will not be able to take advantage of the change, sitting down for only short periods of time will give some students a distinct advantage.
"One of the hard parts for me of taking the ACT is that it's hard for me to sit down and focus for that long. But if I was able to just take the test in small chunks, I feel like I would do much better," Pugazenthi said. "[At the same time,] I feel like [taking the whole test] also shows how capable you are. So I feel like [the changes are] going to give some kids who are really good test takers a disadvantage compared to other kids. It's a disadvantage to them because they've always been able to do it, and that's what helps them stand out in this testing environment."
With students being able to take the test in smaller chunks of time, they will be able to score higher on the whole, Pugazenthi says. This possibility has caused colleges to think about changing the way they look at students who take this modified ACT, according to Anemona Hartocollis, author of the New York Times article on the subject. Some admissions officers will have to consider different ways to look at superscoring, Hartocollis wrote.
"Kent Rinehart, dean of undergraduate admission at Marist College, said his office informally superscores now because it wants to present students in the most favorable light, even though test scores are optional at Marist," Hartocollis wrote. "But he said admissions officers would have to consider whether it was fair to compare the superscores of students who retook the whole test with those of students who retook just part of it."
While colleges, on the whole, are trying to get away from the importance of standardized tests, students like Jawad Alam, senior, say that being able to take individual sections will just proliferate the importance of tests like the ACT and SAT. 
"Colleges look for students who are driven and motivated. So if students are willing to put their time and effort into retaking these tests over and over again into getting a higher score, colleges will look at that," Alam said. "But at the same time, sometimes students don't do well on tests, whether it be because of the test-taking environment or the pressure of it, and that's why colleges are trying to have a more holistic viewpoint. So this change is going to force colleges to contradict themselves, and shows that standardized tests will hold importance for a long time."
About the Contributor
Max Feldman, Business Manager & Spotlight Editor
As a junior, this is Max's second year on staff as a business manager and his first year as a spotlight editor for the Bear Facts program. He aspires...