lz95.org makeover: 2019-20 school year brings a new website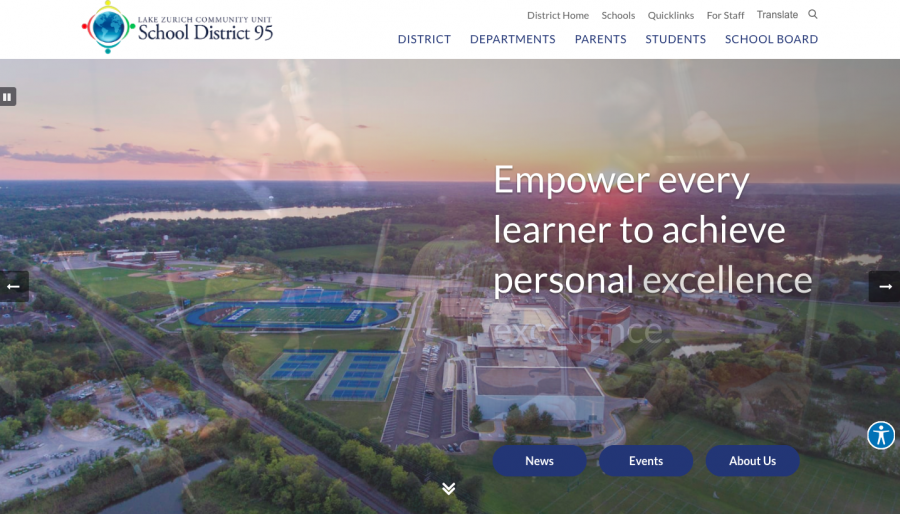 Parul Pari, Magazine Editor-in-Chief
September 5, 2019
After 10 years, District 95 has redesigned the entire lz95 interface to a more image based website that has been designed for multiple interfaces. 
"It's a totally different platform. So that's the biggest change for us is that we're going through a new vendor, and it's learning the whole content management system, which is completely different," Jean Malek, director of community/ community relations said. 
The last time the District 95 webpage was updated was roughly 10 years ago. An essential part of the Strategic District 95 Plan, implemented in 2008, was to redesign our district webpage this past summer.
"Over time, our website became large, because you tend to keep adding content, and you tend not to remove content all the time. So I think just building something that was more streamlined, more easily accessible for everyone, not just in terms of ADA accessibility, but also in terms of finding the content that you need," Malek said. 
Old habits are hard to break, however, and some seniors such as Lexy Selof, have found the arrangement of the new website difficult.
"There are aspects to the new websites design that I do like and there are other aspects that I do not. I like that the website is less cluttered and more aesthetically pleasing, but it is also very hard to find information because there are no tabs that bring me to where I need to go," Selof said. "I do not think that the website is more efficient now. The search bar still does not bring up the most relevant information and the format in which that the website displays documents is hard to read. I would like to see links that take me to the announcements of the day and a monthly calendar listing all events per school."
Although seniors might find the change challenging at first, Malek is optimistic that people will come around to enjoying the new website.
"It's like there's never really a good time to have an update to your computer because [people say], I don't really have time to learn it, whatever new thing they're going to put in right now," Malek said. "But when you take the time to explore it, then [people] find that, you know, 'oh, okay, this is okay'. Or 'Oh, this is even better, you know.' So hopefully people will find that it's actually more intuitive as they play with it a bit more."
About the Writer
Parul Pari, Magazine Editor-in-Chief
After being in the journalism program for three years, Parul will be starting this year as a senior! Outside of the journalism lab, you can find her playing...