Lights, Camera, Action: what the audience can expect from upcoming musical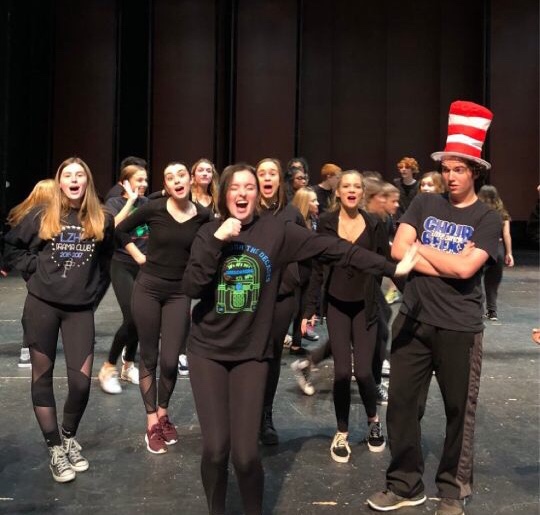 Hang on for a minute...we're trying to find some more stories you might like.
"A person's a person no matter how small" Doctor Seuss once said in his book Horton Hears a Who. The words have carried a long lasting message of "look beyond the surface" for many people, it has allowed them to see past someone's initial image and search deeper. This, and many other well-known and thought-provoking messages of Doctor Seuss will be explored in the upcoming children's musical.
For the actors in the upcoming children's musical, The Seussical, the bright lights and the roaring audience will become reality when the show premieres in November. For Griffin Brown, senior who plays The Cat in the Hat, and his experience with the show in past, Brown has a pretty good idea of the plot and what audiences will like the most about the Seussical. While this is a show more geared toward children and younger audiences, Brown said, there is something there for everyone.
"It's pretty much just a mix of different Dr. Seuss stories, aka Seussical. The main story I would say would be Horton Hears aWho but you might see pop-in characters like Gertrude McFuzz, Dr. Seuss stories, so I think, obviously, kids will really enjoy it, but I think there's something in it for everyone. There are some really interesting relationships between characters and some really emotional songs that adults will really like, and there's some comedy here for everyone to enjoy."
Although the relationship between characters is a main focal point for the audience, what's behind the scenes is just as important. Actors like Hayden Shaw, junior playing Horton, show how the relationship between actor and character is just as important.
"I feel like I've learned a lot about myself and a lot about others just through exploring [Horton]," Shaw said. "I feel like I've grown in acceptance of other people and grown to look at people in a deeper matter, deeper than just what I see on the surface, to not just judge people based on what I see but looking more deeper before I put a judgment on someone."
The way the actors are able to express themselves during rehearsals and even the show itself can really help solidify the bond between character and actor. With the show being student-run, students are able to express themselves creatively in ways they weren't able to before, Brown said.
"Mr. Graham [Director of the show] really lets [students] like Teah Mirabelli, who is our student choreographer, and Jack Fromelt, who does our vocals [express their talents in leadership roles]. They're so good and talented in what they do, so it's a really cool opportunity to see not only adults but also your peers express their creativity through what they teach you. Teah comes up with all of the choreography for the show and it's so cool to see her actually be able to do that."
With run-throughs of the entire play beginning to happen at rehearsals, the student actors are really excited to perform in front of an audience and can't wait for November 8th, according to Brown.

About the Contributors
Marissa Drake, Staff Writer
This is Marissa's first year on staff and second year in the journalism program. As a sophomore, Marissa likes to take long walks to the fridge and spends...