New locker policy: student reactions and why the change happened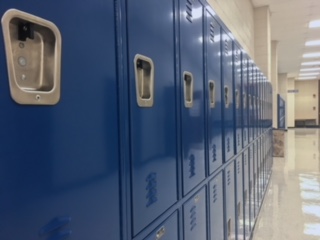 Hang on for a minute...we're trying to find some more stories you might like.
The schools new locker policy will allow students to have a voice on if they want a locker or not.
In order to hear student voices, a survey was emailed to all students so they could decide if they wanted a locker and if so, where they would like the locker to be located. This tackles one of the main reasons why students didn't use their lockers, inconvenient location, according to Paige Orals, Junior.
"I use [my locker] a lot for my lunch and my cross country gear. Last year, my locker was really far away […] all the way in the B-hallway, so it's really nice to be able [to pick] where my locker goes so I'm closer to [my classes] and so I'm not late," said Orals.
Even students who seldom use their school lockers, found the new policy to be a needed one.
"I never used my locker last year […] I just found it a waste of time because my locker was so far away from all my classes and I already didn't have enough time to begin with [but] I think it's cool that the school is actually allowing students to have a say on where their locker is or if they [even] want one altogether," Dominick Rush, sophomore, said. "I know some people who use their locker everyday [and] just because I could care less for my locker doesn't mean other people do too."
The new policy has been implemented due to more and more students simply not using their lockers, according to Ryan Rubenstein, Assistant Principal of Facilities and Activities. The idea has also already been discussed and executed in other local schools, so the change seems like a smart one to make, according to Rubenstein.
"Through networking I've talked to other assistant principals in the area and I heard [that] some schools [were] trying this out last year. So, as they tried it out and worked out the kinks of it, I stayed in contact with them and [looked at] how they started their process and tried to follow a similar one," Rubenstein said. "[We did this by] surveying students first and asking if this was something they really wanted and then making a full out decision on how to carry it out properly.