Students receive millions
Art scholarships provide greater opportunities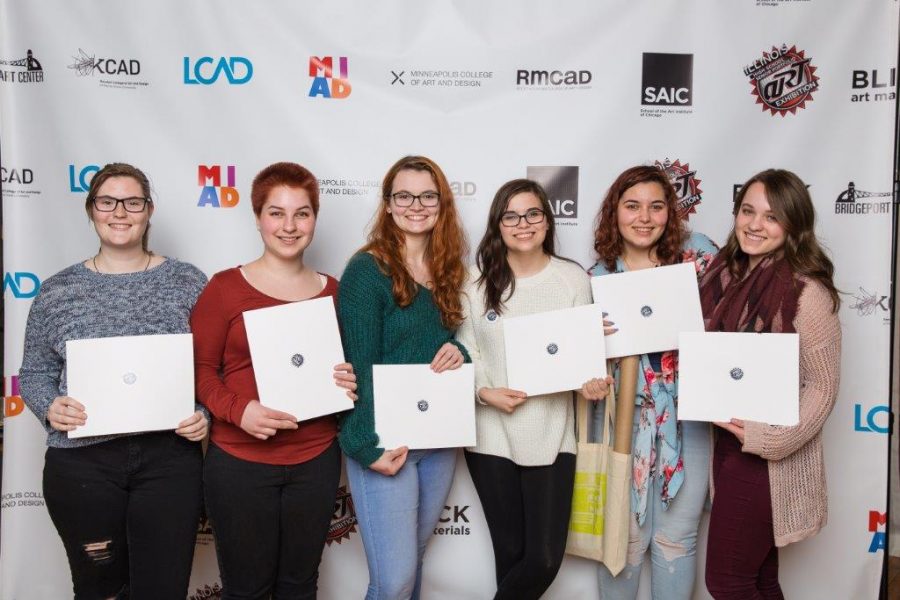 While most art shows are used to showcase the work of art students, this annual senior art show is dedicated to those students who qualified for the Senior Scholarship Expedition and together received almost one million dollars in scholarship money.
Each year, through the
Illinois High School Art Expedition (IHSAE)
, art students from over 100 high schools in Illinois who submit a portfolio of 20 pieces or less are eligible to receive scholarship money, and this money could potentially help continue their passions into college. The scholarship recipients, funded by donations and the National Endowment of Art (NEA), are then put in the art show at school, according to
Kristen LaJeunesse, art teacher
.
This year's awards ranged from $1000 to $2000 and even full ride scholarships, some renewable each year. From LZHS, seven students received scholarships and, in total, were offered $816,000.
"The seven students who submitted portfolios were not doubtful that they wanted to go into the arts. They were quite sure," LaJeunesse said. "This opportunity […] expanded their [choice of different] schools and universities."
One of the seven scholarship recipients, Lara Zuk, senior, received $13,000 renewable each year at the Art Academy of Cincinnati. Although Zuk ultimately decided to attend Coastal Carolina University, she says she will continue her passion for photography.
"A lot of people do take the scholarships, and it helps so much financially," Zuk said. "I definitely think it's worth submitting your work to."
Another scholarship recipient, Chloe Fletcher, senior who plans to attend Savannah College of Art and Design, agrees with Zuk about how helpful the scholarship is, although she too will not be using it.
"I love [drawing and illustrations] because I can put the ideas I see in my head down and communicate the things I think and feel with imagery," Fletcher said. "The scholarship helps pay so [students can] follow [their] dreams."
About the Contributor
Chloe Faris, Magazine Editor-in-Chief
Along with being Editor-in-Chief of the Bear Facts magazine, Chloe is involved with Yearbook, Student Leadership, Student Council, SNAP, and Interact....