Learning from the experts: World Cultures classes takes a field trip to the library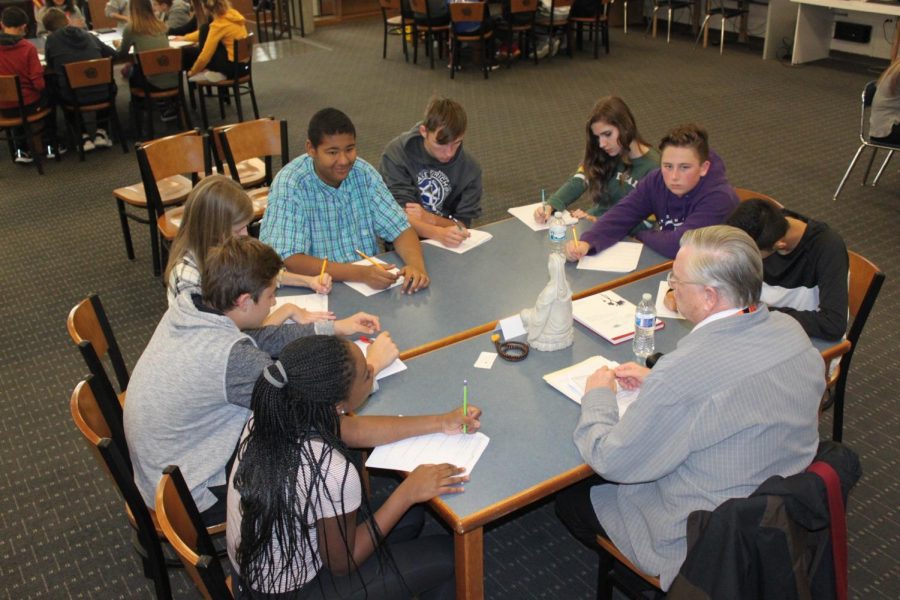 World Cultures classes not only learned from their teachers this unit, but from fellow students and experts during their field trip as well.  
According to Michael Kaufman, World Cultures teacher, him and Meghan Reynolds, another World Culture teacher, set-up a handful of experts to come to the library during periods six through eight where students could rotate through them and ask them any questions they had.  
"The main reason the experts to [came] was for students to get a lot more in-depth information about the religions that Mrs. Reynolds, the groups, or I couldn't teach them," Kaufman said.  "We brought the experts from each religion in, sat them in the library, and let the students move from presenter to presenter to ask any questions they [had].  It's just a way to help students get a firmer grasp on the religions."
According to Kaufman, religion plays a major role in one's identity, which is why they dedicated a whole unit and field trip to the topic itself.  
"For this unit, [the students] really do the teaching.  They do research and then they come up with presentations to teach the class about one of their assigned religions," Michael Kaufman, World Religions teacher, said.  "The presentations were based off of the five major world religions Judaism, Christianity, Islam, Buddhism, and Hinduism.  They have one week to research, and then have to divide the twelve areas of concentration among the group members."
Many students attended the field trip and learned a lot to help better their understanding of the religions, according to Olivia Paparone, freshman World Cultures student.  The main idea of the entire unit was to help answer the essential question: How does one's culture shape their identity?
"This field trip was really unique because we got to discuss and ask questions about these religions to those who practice the religion and have grown up with it," Paparone said. "These weren't just people stating facts, they were relating it back to their real life experiences and feelings."
Overall, according to Paparone, the thing she enjoyed most about the field trip was that she was able to learn that we all have "really similar beliefs."
"We all just want to believe that we aren't alone and that we all have a greater purpose," Paparone said.  "It was really cool learning that we all have really similar beliefs, despite that many people think we're all very different."
About the Writer
Meghan Warner, Staff Writer
As a sophomore, this is Meghan's second year as a staff writer on Bear Facts Student Media.  She aspires to go to college at UNC Chapel Hill, in hopes...