Ceramics classes get fired up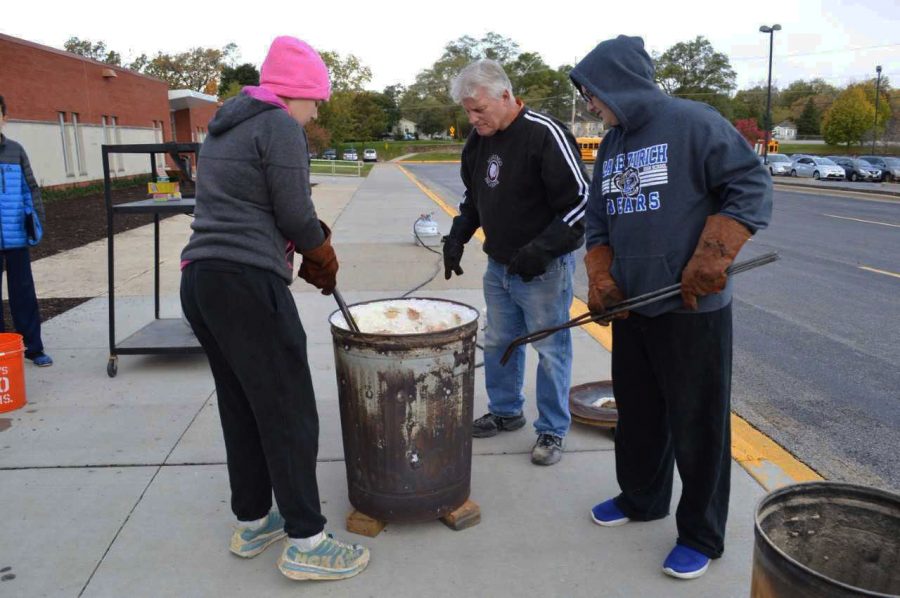 Ceramics classes  got all fired up and ready to go on Wednesday in the PAC parking lot to make pottery.  
Raku is a form Japanese pottery with a glazing process that requires many different materials in order to accomplish the bright metallic colors that could be the outcome of this type of glazing, according the Anna Jahncke, Ceramics teacher.  
"You use many different combustibles in order to create this reaction and this reaction is what gives you these crazy colorful designs," Jahncke said.  "It's a really fun process for high schoolers. I think [students] really get into it because instead of me sort of 'creating' the final product for them, they get to watch the process right before their own eyes."
Jahncke also explained how students were really excited for the days leading up to this field trip.
"The field trip was a super interesting experience that taught me a lot about what goes on behind the scenes of firing Raku pieces. It was really exciting because you get to see your hard work go through this amazing process, and you got to do things by yourself instead of just standing and watching," Olivia Paparone, freshman, said. 
According to Jahncke, a Raku kiln was brought to the PAC for the students.
"The materials got pulled up into the PAC bus lane, and then we take all of our materials outside and start the field trip," Jahncke said.  "They bring the kiln, buckets, and we bring the water.  So, along with the glazed pottery, that's really all you need for Raku."  
About the Writer
Meghan Warner, Staff Writer
As a sophomore, this is Meghan's second year as a staff writer on Bear Facts Student Media.  She aspires to go to college at UNC Chapel Hill, in hopes...