Cheer kids clinic will offer new skills to young cheerleaders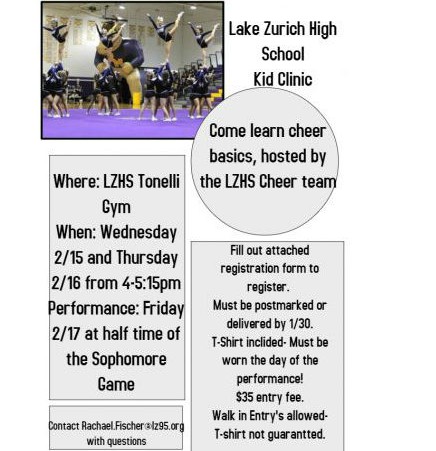 The 2017 State-qualifying cheerleading team will be hosting a clinic for elementary and middle school students from February 15 to February 17.
The clinic will be hosted in the Tonelli gym from 4-5:15pm on February 15 and 16. The clinic attendees will then cheer in a performance during the halftime show at the sophomore boys' basketball game on February 17, according to Rachael Fischer, varsity cheerleading coach.
"We look at how many girls sign up and then we break it up by age groups to try and make the groups even," Fischer said. "Then we teach them a dance to the different songs, some cheers, formations, and stunt groups and then we put together a performance."
Even though this is the first Lake Zurich cheer clinic that Fischer has hosted, returning cheerleaders, like Haley Eder, junior, already have experience working with young cheerleaders.
"It was really fun. There was a ton of girls and they all had their cheer clothes on and they were all so cute," Eder said. "They've taught me [to keep trying]. They usually never give up. They'll land on their head constantly, but they'll keep trying until they do it right."
The clinic participants and the high school cheerleaders both benefit from the clinic, said Fischer.
"It gets incoming freshman a chance to work with our girls and other kids in the community," Fischer said. "Or maybe they didn't know they liked cheer before and this breaks them out of their comfort zone. And then it's also a fundraiser for us, which is nice."
The money earned through the kid's clinic will go towards camps that the team attends in the summer to work on their skills and technique, according to Fischer. Both Fischer and the cheerleaders hope that there will be a large turnout for the clinic, according to Eder.
"I definitely think more girls are going to join because I feel like more and more girls and wanting to cheer," Eder said. " I think we're going to be advertising it a lot more this year, so I definitely  think parents will hear about it and we'll get more girls for the clinic."
About the Writer
Meggie Furlong, Web Editor-in-Chief
As a senior, Meggie is the Web Editor-in-Chief of Bear Facts Student Media. Previously, she was the Social Media Manager in charge of the staff Twitter...