Selfies with previous Secretary of State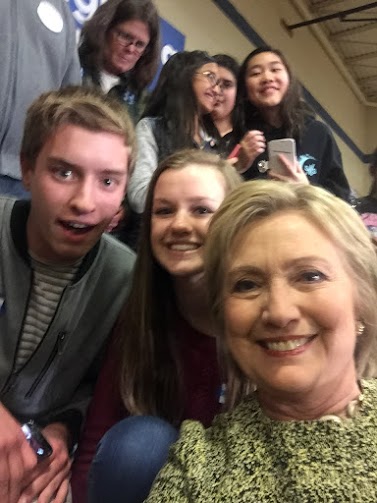 After being being specially chosen to be in the background of a political candidate's speech, two siblings believe that deciding to go to a political rally last minute was worth it.
"I definitely shook hands with, arguably, the most powerful woman in the world. I was very happy and almost crying when I met her because she is such an inspiration," Katie Szarkowicz, junior, said, after unexpectedly meeting Hillary Clinton at her rally on March 10.
Considering herself a teen "really into politics​," Szarkowicz was overjoyed after meeting the candidate at a Clinton rally at Sullivan Community Center in Vernon Hills ​last Thursday. Szarkowicz convinced one of her triplet brothers, Tommy Szarkowicz, to go along with her, and this was their first time going to a political rally.
"I didn't want to go [at first]. I was thinking this is going to be ridiculous. I'm just going to be sitting in a room with a bunch of people just looking at this lady who I don't even really support.  [Then] I thought it'd be a good opportunity because you're never going to have that opportunity again," Tommy said. "[I'm a fan], but not as big as Katie."
Although the Szarkowiczs consider their experience of waiting outside to get into the rally "very cold" and "freezing," they believe that overall the rally was a "really cool experience."
"When we got there there were already a ton of people in line, obviously a ton of camera crews around too. It took very long to get in," Katie said. "Obviously, you have to go through Secret Service and stuff, so we actually ended up getting in at 7:30, [two hours after the event started]."
The siblings agree that they were not expecting what was to come when they got into the rally.
"When we went into the rally there was a guy from the campaign that asked us to be in the backdrop, which are the people who stand behind [Clinton while she speaks.]  We were like 'okay!'" Tommy said.
Katie considers being chosen to be in Clinton's backdrop as the "best thing ever."
"They brought us up onto the backdrop and we stood there for probably like 45 minutes or half an hour. They were playing her campaign music and these speakers started coming up and speaking. There was a lot going on," Katie said. "Secret Service was kind of walking around, and we were just standing there and waiting for her because she was late, as politicians run late.  [Then] all of a sudden my brother sees her."
After finally seeing Clinton and hearing her speech, Katie was not expecting to be able to meet Clinton, shake her hand, and take a picture with her.
"Afterwards, when she was done, we thought she was just going to walk off the stage and go back through the door because, obviously, she's very busy. What she did [though] was she got off and turned around," Katie said. "She started shaking hands with people in the backdrop and I was like, 'Oh my god. I'm going to meet Hillary Clinton.'"
After being at the rally for almost five hours, Katie found this moment well worth the wait.
"I was expecting one of her aids to take a picture of us together, which is what they had done for the other people, but I guess since I was like a youth, she was [thinking], 'oh I can take a selfie with her.' So she takes my phone, holds it out, and she's says, 'alright let's do this.' She presses the button a couple of times and I was [thinking], 'oh my god, Hillary Clinton is taking a selfie of us on this phone,'" Katie said.  "It was so cool. Then I took a couple with me, my brother, and Hillary."
Both siblings say that after the experience they "would definitely go" to another rally if they had the chance.
"Even if you don't like her politics, you have to realize that she's done so much for not only women, but in general for so many people," Katie said. "She's a great role model for people to look up to."