Global issues students visit 9/11 exhibit in field trip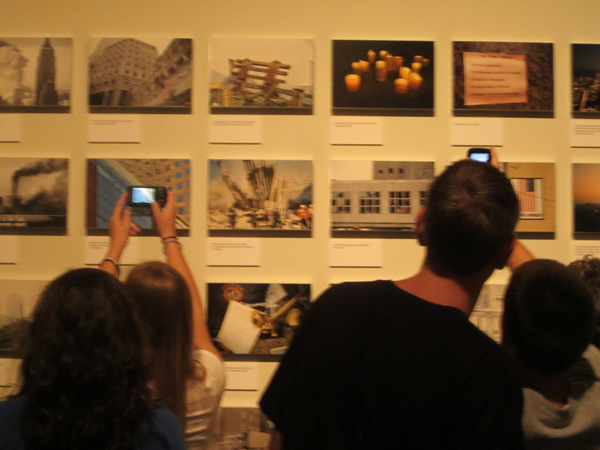 Global issues students visited the field museum on Friday to see the 9/11 exhibit.
The exhibit, Ground Zero 360, opened on September 2, 2011and runs through January 2, 2012. Inside the exhibit were artifacts, pictures, recordings, and more to view and learn from.
"The fieldtrip was a very emotional and memorable experience," Meaghan Gelinas, sophomore, said. "It greatly impacted my life because it displayed first hand footage of the tragic day of September 11th."
There were fragments of steel that had fallen from the towers, and three steel crosses were made from the debris.
"The exhibit just made me feel sad; I'm a teacher and I think people should learn things and talk it out, but terrorism is the opposite of that," Libby Reimann, social studies teacher, said. "It's changed the way we live."
Another memorable area in the exhibit was a recording of police officers describing the first tower getting hit, as well as the last call of a female police officer, Moira Smith, who died in the north tower.
"I think it was all just a backup to the things we have talked about in class, and it makes it all more real," Reimann said.
People in the exhibit were able to record their feelings and thoughts on a touch screen, and you could either observe others opinions or write your own.
"The thing that really got to me was the picture of the abandoned stroller because a good friend of mine was running away from the towers pushing her baby in a stroller during the attack," Reimann said.
Other than pictures of the attacks, there was also a curved wall with posters that family and friends had made for the missing people in their lives.  One of the posters had a picture of a father with his young daughter that read, "Have you seen my daddy?" with his name, Jason Jacobs, underneath.
"It really touched me that I was able to see what really happened that day through all the photos and posters that were displayed," Gelinas said.
Also displayed in Ground Zero 360 were the multiple pictures of the American flags flown that day, memorials held with awards for officials that died saving others that day, and pictures of the before and after math of the attacks on September 11, 2001.