Support and sip
A review of the holiday drinks at Stompin' Grounds
Tis' the season for holiday cheer, and holiday lattes! I don't know about you, but a favorite holiday pastime of mine is grabbing a great seasonal latte and taking in the holiday cheer. Yet, I'm always faced with the inevitable question; which drink do I get? Here is an honest review of three seasonal drinks from Lake Zurich's favorite, Stompin' Grounds.
Eggnog Latte ~ $5.90 (med)
Creamy, not too sweet, and the perfect pick me up on a gloomy winter's day- the eggnog latte is a great holiday treat! If you're like me and you aren't a fan of overly sweet drinks, this is for you!
While maintaining a creamy flavor, the eggnog latte is a good choice for a big coffee lover, as it is more on the strong side. Within the first sip, your pallet is filled with a rich flavor.
However, if I wasn't told this was a holiday drink, I might not have picked up on the eggnog. Even though it tasted great, I wouldn't have picked it out as the perfect coffee depiction of holiday cheer (though it does bring a lot of it!) This drink had an excellent rich and creamy flavor.
Because of it being on the more expensive side and not having a distinct holiday taste, I give it a 3.5/5 stars.
Peppermint Bark Latte ~$5.90 (med)
A great take on the classic, the peppermint latte is a staple to the holiday season. Though this is the sweetest drink by far, this drink turned my pallet into a chocolate-candy cane wonderland. With less cream, strong peppermint tastes, and mocha java chip hints.
But, if you don't like peppermint, this drink is not for you. The peppermint can get to be slightly overpowering, though it doesn't take away from the magical taste. This flavor can seem a bit generic, but Stompin' Grounds adds an original charm to it.
This drink has a rich flavor, a timeless taste, and a great holiday feel, but the peppermint is a bit strong, and once again it is a bit more expensive.
I give this drink a ⅘ star rating for its classic holiday taste.
Iced Gingerbread Latte~ $5.75 (med)
Run, run, as fast as you can to catch this gingerbread latte! Drinking this felt like I was walking into a kitchen with cookies in the oven.
Stompin' Grounds took the traditional holiday treat and made an immaculate latte. With sweet hints of ginger and molasses, and a bit off a kick with the cinnamon, this is the perfect holiday drink. It is not as sweet as the peppermint bark latte, but not as strong as the eggnog- just the perfect blend.
I instantly thought of all things surrounding the holiday season within the first sip. With a heartwarming, slightly sweet, joyful taste, this latte is by far my favorite. Without being too creamy or too strong, the latte is the perfect holiday drink this season.
I give it a 5/5 stars for its extravagant flavor and lower price.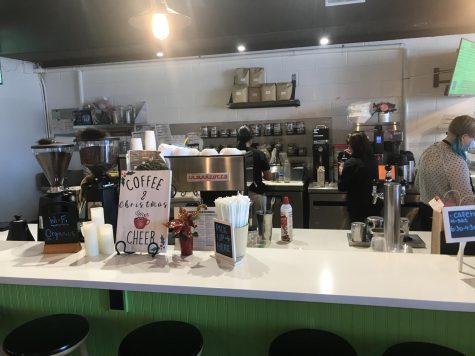 "Stompin' Grounds does what big companies don't do, they have a handcrafted small-town charm. they have a classic, subtle, timeless seasonal tone, and create the perfect wintertime treat. all of these drinks are worth grabbing and to have while enjoying the holiday season." -anonymous customer
All of these drinks have their own charm, and I encourage you to go support a local business while trying a great holiday drink. Happy Holidays, and Happy New Year!