Keeping the main office under control
How main office secretaries help run the school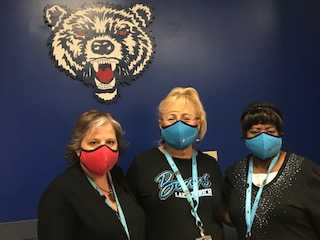 A lot goes on in the main office, and with so many things happening, its secretaries need to be ready for anything. 
Paula Giese, administrative assistant; Helen Rzasa, main office assistant and receptionist; and Pollie Greenhalgh, Ryan Rubenstein's assistant, are the three secretaries in the main office. While their jobs may sound simple, they have a wide array of things to manage and need to be prepared for anything.
Main office secretaries have several different jobs: Rzasa assigns substitute teachers and processes mail and deliveries, Giese coordinates graduation. Greenhalgh works with Rubenstein.
"Whenever anybody needs help, [they]all help each other," Giese said. "We all get along. All of us have a key role in running the school and we all have our specialties. It's not just one person, it's all of us."
However, their jobs are not straightforward by any means; according to Greenhalgh, she has to improvise often.
"It just gets busy," Greenhalgh said. "And when it gets busy, it gets hectic, and you just have to deal with it as it happens." 
While being a secretary can be hard work at times, Rzasa says that she enjoys her job and the challenges it provides.
"Every day there's something new," Rzasa said. "I'm never bored. I welcome challenges. Sometimes I have a lot of teachers absent and I don't have enough substitutes, so I have to reach out to the faculty, and they're always super nice and appreciative."
Rzasa says that one of the things she likes about her job is how well she gets along with other staff members. Rzasa says that one of the reasons she gets along so well with the other secretaries is because she tries her best to be friendly toward everyone and reciprocate kindness that is shown to her.
"I greet everybody with a firm 'Hello'. I try to make people smile, especially if they come in and they're feeling down. I just try to lift their spirits, whether it be students or staff. I always want positive affirmations," Rzasa said. "Even with what's going on in the world, you just have to look for happiness, and it's there."