Seniors reflect on five-day in-person weeks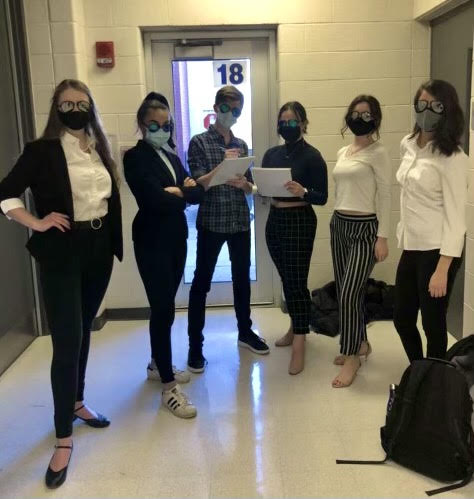 With a gradual ease up on COVID restrictions in Illinois, students are finding more and more opportunities to take advantage of their schooling. On February 18, seniors were able to attend classes five days a week, instead of the typical hybrid schedule. A full three weeks since seniors were allowed to return to 5 day a week classes in school, seniors like Brittany Rogus say the return to in-person learning has been  "100 percent worth it."
"Visually being able to see different groups of people every day, that I normally wouldn't see outside of school is so exciting. I'm looking forward to when even more people and different grade levels are able to come back full time" Rogus said. "For example, now that freshmen are coming back five days too, I'm finally able to meet the people that have been listening to me over a screen for so long [as a PE Leader.]" 
Leading freshman in PE is just one of the many activities Rogus participates in that she now finds more meaningful as a five-day senior. She's also involved in choir and theater at the school, both of which are driving reasons for why she decided to come back full-time.
"I wanted to be able to go to in-person rehearsals because doing those over zoom just wasn't the same at all. When we were at home, our teacher would play the piano over zoom and we would sing at our homes with our microphone muted, and [our teacher] would just hope that we were doing right," Rogus said. "I just really wanted to be able to see my friends and be able to actually sing with them in person." 
According to Rogus, five-day learning makes all of her extracurriculars more engaging and enjoyable. But, it's not just extracurriculars as seniors are also finding classes to be more meaningful, according to Grace Lightfoot, senior. Physically being present all the time makes her more complex classes easier to understand, she says.
"It's hard to focus and pay attention whenever I'm sitting at home, surrounded by distractions. When I am at school I'm kind of forced to pay attention, which is great because I truly am learning more in the classroom," Lightfoot said. "It also makes school fun again, being able to see my friends and leave with them on my opens gives me something to look forward to again at school."
Seeing friends, learning more in classes, and participating in extracurriculars are just a few of the many reasons some seniors decided to come back five days a week this semester. Lightfoot says that although the adjustment to five-day learning was a little difficult at first, she is extremely thankful that she was even offered this chance.
"Being a five-day senior makes me feel the most sense of normalcy I've had in a year," Lightfoot said. "I think being able to come back five days is the closest to a normal senior year I'll get and I'm so happy that we have the opportunity."