Tutoring for a cause: students start award winning non-profit
What started with two seniors who simply wanted to "alleviate parents' struggles, help kids, and perform an act of community service all at the same time," has turned into a growing non-profit organization that has earned recognition from the White House.
Seniors Daniel Kalarical, and Aiman Naqvi (with the help of Holly Ryan) created "Tutor4Service," a non-profit whose mission is to "enhance education by providing free tutoring in communities and use [their] teaching abilities as an act of community service, says Kalarical, and the non-profit's development has been very successful.
"Initially, we never really expected to grow as much as we did because we were having trouble getting new kids to tutor, we only had a small team of tutors, and Aiman [Naqvi] and I were the only core team members. But now we have added Holly [Ryan] to our core team and she has helped us grow tremendously as an organization and she has been a huge help in our community outreach initiatives," Kalarical said. "We now also have over 20 tutors, we have tutored over 50 kids, accumulated 350+ hours of tutoring, and even done service initiatives such as conducting a food drive for the Arlington homeless shelters and group homes and the SOS Children's Village Foster Homes, and even raise 2000 dollars for [the Foster Homes] too."
Along with the help of the tutors, Kalarical, Naqvi, and Ryan were able to expand their services further with the help of social media.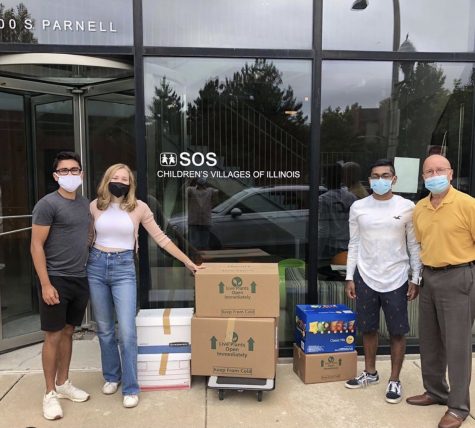 "It took a while and a lot of effort to make this possible, but [we] built our own website. We recognized our targeted audience would typically be parents, so we joined various Facebook parents groups and posted as much as we can," Naqvi said. "We also asked our parents and our friends to repost and spread the word about us to their friends, so people were aware of our tutoring service. Along with this, we got in contact with our own high school and asked the counselors, teachers, and the vice president to let the students in various classes know that they have this free service available."
Tutor4Service has raised money for numerous organizations and has received the Presidential Volunteer Service Award (Gold Medal), an award from the White House, signed by President Donald Trump. Despite these awards and recognition, Kalarical, Naqvi, and Ryan are just thankful for the opportunity to help their community, Naqvi says.  
"This has been the most humbling and inspiring thing Dan, Holly, and I have done and it gives me so much joy to provide such a service. On the outside, all you see is a couple of high school kids doing zoom tutoring sessions. What people don't see are the many failed attempts of reaching out, ideas that were thrown out or redone, and hard work done behind the scenes of the creation of this organization," Naqvi said. "We really learned a lot about the amount of effort it takes to be a part of something that is greater than just yourself. To finally put it all together and receive so many grateful responses from parents and kids truly gives us happiness."