A small act of kindness
Two students start the American Hero Project in order to give back to essential workers
Sometimes during difficult times, even the smallest acts of kindness can make a difference. With this idea in mind, two students took action and started their own organization with the goal of giving back to essential workers during the pandemic.
Rony Ochakovski, senior, and Simi Pugazenthi, senior, started The American Hero Project back in March. Ochakovski's mom is a nurse at Condell Hospital in Libertyville, according to Ochakovski, and it all began when she came home one day with a Starbucks gift card the hospital had given her. Seeing the impact of this act of kindness inspired Ochakovski to do something to give back.
"For her, just showing that kind of appreciation was a huge deal. I was kind of tired of not doing anything," Ochakovski said. "[It was quarantine and I had nothing going on at the time], so I wanted to do something about it. I called up Simi, and we came up with this idea of showing appreciation for the essential workers."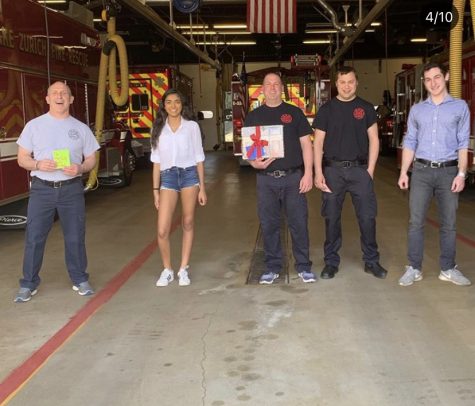 The process of starting their nonprofit was not easy at first because it was a huge amount of coordinating, according to Pugazenthi. It was difficult because "Rony and I did it by ourselves, so it did take a lot of time and effort," Pugazenthi said.
"[When] we [decided to put our idea into action] we didn't really know where to start. Once we got the website going the hardest part was getting people involved. So from there, once we got our classmates involved, [things started to take off]," Ochakovski said.
On their website, they had products ranging from $5 gift cards to $50 gift baskets, which anyone could buy. After placing their order they had the option to choose what kind of essential worker they wanted to send their gift to, or if they had someone in mind they could send the gift to that person.
"We would order [the items] ourselves. Then we would get them, personally wrap them, and write a handwritten card. Donors were able to, when they checked out, write a paragraph that they would like to be written on a card. We would write their phone numbers on the card so the essential workers could call them and say thank you," Pugazenthi said.
According to Ochakovski and Pugazenthi, the organization has come to an end. The American Hero Project made about $3,000 worth of sales including donations, and the organization donated to over 400 essential workers.