No longer normal: grocery shopping during a pandemic
How families are handling groceries and how students cope with food supplies while staying at home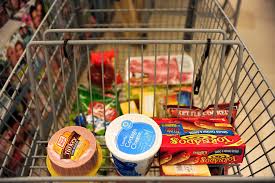 During quarantine, some students stay at home while their parents handle groceries and others work at grocery stores. 
With the death toll and the number of people contracting the virus increasing daily, people may be wary to go out and buy their groceries. However, to keep their families healthy, they rely on grocery stores to be open. Mckenna Kalesz, junior, is currently working at the Trader Joe's in Lake Zurich and bags groceries.
"A lot of places, including ours, have set limits to popular items such as dairy, toiletries, frozen dinners, etcetera, to ensure the majority of customers still have access to it. The first few weeks of quarantine were rocky and a lot of our shelves were pretty bare, but we ended up working out an organization plan that has kept us pretty stocked," Kalesz said.
Kalesz and the employees she works with do not allow the pandemic's fear to affect their work atmosphere, Kalesz said. 
"The atmosphere is still pretty bright given the current circumstances. Everyone's situation is different regarding the current circumstances, and everyone is generally really supportive of everyone's comfort level, availability, and workload," Kalesz said.
As the "stay at home" order has settled, she realized that their store is not as busy as it was at the beginning of the pandemic. However, she has noticed that many customers are making one trip to buy groceries for the entire week or more. With the heavy load of groceries, she "definitely had to master how to pack efficiently and quickly."
"I have overall felt very comfortable in my time working. A lot of customers are very kind and accommodate the precautions we've laid out, and are very respectful of one another's space. There are of course some nerves surrounding the exposure level, but almost everyone who has been coming in has been wearing some form of a mask or following spacing guidelines," Kalesz said. 
While Kalesz works during quarantine, Jacob Belovicz, sophomore, stays at home while his parents handle the groceries. Beloviscz's family heads over to the grocery store every other week and stocks up on any goods they need. His family has focused on buying major food items for dinner such as meat and fresh vegetables. He often asks his parents to buy grapefruit juice to treat himself.
"Although my parents go to the store, they do not allow me or my brother to go inside in hopes to lower the risk. Anyways, the only challenge I have staying at home is attempting to fight mild boredom, which I do not mind because my situation could be a lot worse than just being bored. Also, my fabulous friends have been able to support each other and stay in contact," Belovicz said.
Similarly, Nandini Rangan, senior, has also been forced to stay home. While Belovicz prioritizes fresh food items, Rangan's family has been stocking up on food that is frozen or can be eaten later so her family can make fewer trips to the grocery store or eat takeout. 
"My parents usually go out to grocery shows, but they don't let me or my sisters go out, so we usually ask them to buy the things we want or need," Rangan said. "My family has definitely been stocking up on food that's frozen and can be cooked later, that way we can avoid going out as much to the grocery store or eating takeout."
Some students, like Rangan, rely on sweets during a time when eating out is not an option. To keep her optimistic, she says she has heavily relied on ice cream.
"Ice cream has honestly gotten me through this whole thing and hasn't failed me yet," Rangan said. "It's definitely always number one on the shopping list."
About the Writer
Annette Suk, Business Manager
As a senior, Annette is in her fourth and final year of journalism. It is also her first year as a Business Manager. Annette is a very excited FAME leader...