Senior ends high school career on a high note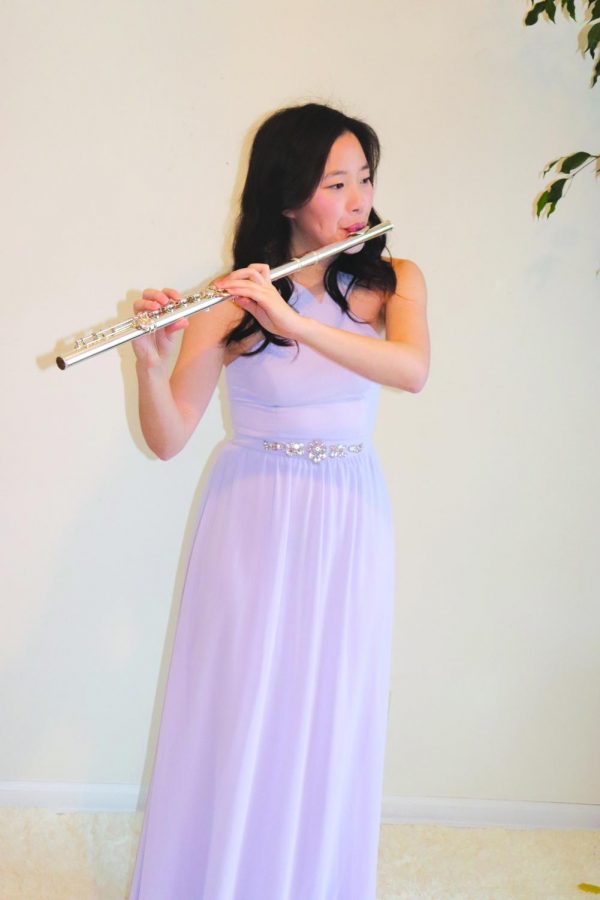 Talented musicians spend months preparing their piece to receive a solo stage at a concert, with the orchestra accompanying in the back. While Rachel Lee, senior flutist, was up against competition from band, orchestra, and choir, she was able to knock down all of the competitors with her months of effort and practice and win the Concerto Competition.
This year, Lee won the competition against other competitive musicians from band, orchestra, and choir. She performed the "Poems for flute and orchestra" by Charles T Griffes. Known for her flute skills and receiving first chair at ILMEA, for many years by her peers and Performing Arts teachers, Lee was still surprised and delighted that she won the competition.
"It was super important to me," Lee said. "Winning meant that I could play in front of this huge crowd and prove to everyone out there that I'm a good player and I have the skills to show that. I love playing the flute and I wanted everyone in the audience to feel the love while I'm playing. This is a once in a lifetime chance, and winning meant that I had this special moment to myself,".
She planned to win by putting all of her skills to the test. She wanted to push herself to the limit and try out for an opportunity that she would not receive in college. Coupled with the fact that she was soon to be a graduating senior, she wanted to share her love for music and her flute.
"It'll give me an opportunity to show off my skills. I'm not going to major in music and there would be no other time where I would be given this amazing opportunity to play my concerto all alone with an entire, impressive orchestra to back me up. It's an absolute honor to be able to play with a talented orchestra and show off my skills. I'm so grateful that the judges chose me and allowed me to share this precious memory for the rest of my life," Lee said.
Lee pursued her goals even with the other schedules that intruded her. Coupled with her preparation for ILMEA and college applications, it was difficult for her to balance her priorities. However, with her eyes set on the goal, she was able to spend time everyday to focus on her future and her musical dreams. 
"When I won the competition, I was in utter disbelief. I could not believe that I won it against so many other talented people. I was genuinely shocked when I received the email that I won because I was afraid that I wasn't as good as all the other people trying out. I was, of course, also really excited because- not to toot my horn or anything- it's my time to shine and show my love for music and the flute," Lee said.
Concerto competition is an event where any musician from Orchestra, Band, or Choir can try out to earn a solo stage at an Orchestra Spring concert, accompanied by the orchestra. Chosen by various judges, the winning musician performs their piece. 
"I leave it open to anybody but I think it's a nice added challenge for them, you know, for a student who is already working on solos and major concertos, and a chance to be recognized by your peers. Like, 'Hey I get to play with the orchestra. Look at me.'"Also, I think it's great for the orchestra to have the opportunity to play with people," Nathan Sackschewsky, orchestra teacher, said.
The musician must present their piece to Sackschewsky first and get it approved, ensuring the orchestra can accompany the piece. When it is confirmed, the musician can try out, for array of judges determine which contestant deserves the opportunity to have a solo concert.
"We have professionals. Usually we have two or three people who are even more sometimes, we can have a conversation about like, 'Oh, this person did really well, this person did really well.' Now who is really at the level who should win this, did they just play really well at their accompanist, or did they can they work it with an orchestra how he's gonna fit is when we have a bigger conversation, but generally it's, who played the best and who's really ready for this because it's different," Sackschewsky said.
About the Contributor
Annette Suk, Event Coordinator
As a junior, Annette is in her third year of journalism and her first year as an Event Coordinator. Annette is a very excited FAME leader and will help...