Prepping for your future… literally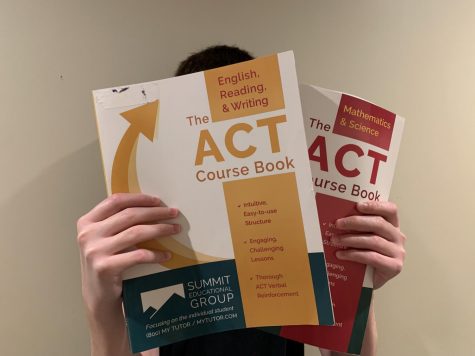 For many high school students, there are two sets of three-letter phrases that are more terrifying than anything: SAT and ACT.
The significance of these tests in possibly determining a student's next step in life puts a ridiculous amount of pressure on the four to five hours they spend in a random classroom filling out scantron sheets. However, there are ways for students to perform better on these exams, and that is the various forms of test prep.
"The biggest benefit is knowing what you have to look forward to on the test so you know which problems in math that you should really be studying and which ones you shouldn't be, because you already know what to do on them," Mason Andrews, junior, said. 
Andrews began his form of ACT prep back in June through private tutoring sessions tailored to his own skillsets. According to Andrews, he would go in once a week for an hour and practice any of the four tested skills on the ACT: math, reading, English, and science.
"Sometimes they would have me come in and do a test without any help and you kind of had to like set your own pace. And sometimes it was rough," Andrews said. "Like in the beginning, you think you have to do every problem correctly. You don't know you don't have to do everyone correctly because you're just wasting time. The problem is you could be incorrect." 
"
And to realize that you don't have to get up. You just have to get the most answers that you possibly can, like, certain time period."
— Mason Andrews, junior
Through formal standardized test tutoring and prep, Andrews says that his confidence has been lifted and it is higher than he thinks it would be if he were not to do formal prep sessions.
However, not everyone has to pay hundreds, or sometimes thousands, of dollars in order to bump their test scores up a handful of points, as some students prepare on their own and still are successful when it comes time to view their scores.
For a lot of students, being able to bump up their scores comes from knowledge of knowing what the test looks like, Emily Catsaros, senior, said.
"Especially for like the first one, you really have no idea. That first ACT was my first standardized test like that ever," Catsaros said. "Once you take the first one, then you know how much and how specific you have to be about time management because the ACT especially is ridiculous about time."
According to Catsaros, she never did any formal ACT or SAT prep sessions for her three ACT's and her one SAT, but that does not mean that she did not improve from test to test. From her first to her most recent ACT, she improved her composite score by five points. 
"Some of them are harder than others. For Sure. I remember the December one was ridiculously hard. And then the one that I took two weeks ago was the easiest standardized so it was the easiest ACT thinking yet so you can't control that," Catsaros said. "It's okay to take it I would suggest taking on like twice for sure. Don't take them eighteen times because it's not worth your time."
"
As you go, you kind of learn about time management especially but you also learn about the kinds of questions it asks. So once you take it the first time, then I think you definitely would improve."
— Emily Catsaros, senior
both Catsaros and Andrews, they elected to take the ACT first rather than the SAT. This could differ for other students, as the only thing that matters is how confident you are on each test, Catsaros said.
"Definitely at least try both. And you'll see that you like one more than the other," Catsaros said. "That's going to help you do better because if you feel better about one over the other, then you're more likely to do better on that one."
Formal test prep aside, both Andrews and Catsaros agree that there is one thing that has nothing to do with what gets filled in on the scantron that can make or break a person's test. Both agree that the best thing to do to prepare before the exam is to get a good nights rest the night before to feel energized the next morning.
"Get into like your test place early enough to where you aren't like rushing into the building," Andrews said. "Sleep also helps along with test prep because you cannot do all of the tests on two hours of sleep. Then you aren't going to do that well."
About the Contributor
Alex Ketcham, Sports Editor
As a senior, this is Alex's third year on staff and fourth year in the journalism program. He is very excited to work as the Sports Editor again. When...