It's a small world after all
Senior moves to a new country and plans to volunteer in another continent after graduation
After four or more years of being surrounded by the same people and having the same friends,  most LZ seniors are content to simply sit back and live out their last days of high school. But for one senior, her final year of high school was not a year where she could enjoy the relaxation of home, but the year where she would move to an entirely different country.
After living in Haiti for ten years, Gia Antoine, senior, moved to LZ this school year, due to the nation's instability and her father's new job. It is here in the U.S. that she finished up her high school career in a new environment, at a new school with new people.
"Back in Haiti, we were closer to one tradition and here, it's more of a melting pot," Antoine said. "The people there are really impoverished and they don't have a sense of community like what you guys have here, like you're always trying to help each other and I guess it's kind of different, but the way I was raised was that I was basically living an American life in Haiti."
Although Antoine agrees that the environments of Haiti and the U.S. are vastly different, she says that her lifestyle there was more American, in that "my home life was basically just like how I'm living here now."
Perhaps it was due to this unique lifestyle, in addition to her half- Haitian, half- Puerto Rican heritage, that Antoine admits that she always felt like an outsider in Haiti.
"I always felt like an outsider because I guess I didn't look Haitian enough for people in Haiti, so I always felt sort of isolated and I just had to go through it," Antoine said. "It was kind of hard when I was young because I didn't understand why I didn't look like everyone else."
Despite some of the difficulties that she faced in Haiti, however, Antoine says that she still greatly misses her life in the country she lived for ten years.
"I've been trying to go back since I got here because I miss it," Antoine said. "I used to hate it, but as soon as I moved, I missed everything about it, even the dusty parts. I miss my friends and my entire family, who's over there still."
Although Antoine says she misses much about her country, she says that the lessons she learned in Haiti are what make her the person she is today.
"[Living there]  made me really grateful because I would see people who were struggling every day on my way to school and it hurt sometimes, but it made me grateful [for what I have]," Antoine said. "It made me appreciate a lot of things, and moving here and seeing the cultural change, I realized that you just have to see the bigger picture. I remember telling myself to just see the bigger picture, that you just moved to a different school, a different world with different people and you're just going to have to make the best of it because it's your last year of high school."
It was this holistic outlook of hers, Antoine said, that made her realize how she wanted to live out her life. Next year, rather than heading straight to college, Antoine will take a gap year and spend two months volunteering in Africa.
"I was just not sure of what I wanted to do and my parents always told me that if I wasn't sure, to not go to college because there's no rush," Antoine said. "I moved here my senior year I'm not prepared to go to college like most seniors. I just felt overwhelmed the whole first semester so I decided back in January that I was going to take some time to be sure of what I wanted to do and maybe have some fun while I was at it."
In addition to the volunteering she will be doing in the African nation of Ghana and Tanzania, Antoine has also done over a hundred hours of community service in Haiti. With these experiences, which she says she considers a part of who she is, Antoine hopes to pursue a career path in social work.
"I love to understand different things and I love seeing how people are different and why they are that way," Antoine said. "I love helping people, I've been doing it [for most of my life], it's something I grew into and learned to love. I don't know exactly what I want to do, but at least I know that about myself: I want to listen to people and address their needs and help them out in any way I can."
Leave a Comment
About the Contributor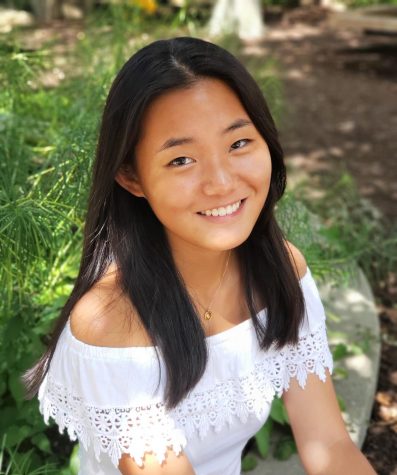 Caroline Sun, Digital Editor-in-Chief
As a senior, Caroline's back for her third year as Digital EIC. If you ever catch her outside of school, she'll probably be running with the cross country...