A Passion for pageantry: sophomore defies stereotypes
"They're dumb. They're bratty. All they have to do is sit still and look pretty" is a common misconception people in society have of girls who compete in pageants. But with over 1000 volunteer hours and her driving dedication, Suhanee Patel, sophomore and title holder of National American Miss Illinois Junior Teen, is proof that pageantry has more to it than merely what is shown on Toddlers and Tiaras.
"Prepping for pageants is a lot of hard work because you go through a series of interviews and you have to write a bunch of resumes. People think pageantry is just sitting and looking pretty, but it's a lot more than that," Patel, who has been doing pageants since she was nine, said. "Obviously having a good stage presence, being poised, and looking put together helps you set your best foot forward, and you need to know how to talk and how to communicate with others. Social skills are really important life skills, and that's basically what pageantry is all about."
For Patel, pageantry is second nature, she says, because of her life long passion and experience for volunteering.
"I really enjoy volunteer work, even before I did pageantry; I started volunteering when I was two years old. My mom always hosted these Leukemia fundraisers and I generally enjoyed helping out with that," Patel said. "But ever since then, when I danced, we went to retirement homes and we made holiday treats with the residents, decorated ornaments, and I realized they couldn't even remember the simplest things, like what their name was. As I got older I did research and realized the odds of dementia. I really wanted to fix that, so I created Glitter for the Golden, which is my own platform. It's an elderly enrichment program where we go volunteer at local retirement homes."
While helping the elderly through her self-made platform, Patel finds that volunteering and pageantry really gives her exposure to what she enjoys the most: public speaking.
"I solely entered pageants so I could public speak because I've always loved talking, and I tried pageantry," Patel said. "At school I'm a varsity leader for the speech and acting team. I compete in speech competitions about topics that are important to me, and I'm really into caring for the elderly. Intergenerationality is really important to me, which is generations interacting, it's how we teach them about technology, and they can teach us about their morals and values."
Participating in speech and acting competitions are one step closer to helping her fulfill her aspirations, according to Patel. Sophomore and Patel's friend, Ellie Root, says despite Patel's age, she seems to have a plan for her future.
"Everything [Patel] does has a purpose and she has set goals," Root said. "Not a lot of sophomores can say they know what they want to do for their futures, and Suhanee seems to have an idea of who she wants to be and how she wants to make the world a better place."
Patel hopes to pursue a career in healthcare administration and obtain her MBA so she can open retirement homes and care for elderly and dementia unit patients. Recently, Patel went to India to volunteer at the local schools.
"Education is really important to me because when I went to India, I saw that girls couldn't get an education and that really took a toll on my heart," Patel said. "I realized how fortunate I am to receive such a good education and even have that opportunity to pursue it in college."
Besides volunteering in the community and pageantry, Patel values forming strong relationships with her friends. Julia Braasch, sophomore and Patel's close friend, says Patel is a great person to be around.
"Suhanee is just a really nice person overall, and she's so understanding," Braasch said. "Whether it be at speech competitions, she always just has a smile on her face and is always just so humble about her [participation in pageants]. I just think everything she does, she sets the standards so high and she always achieves them, and that's really inspiring to see."
Patel credits her kind personality to her involvement in pageantry. It has changed her in a positive way, according to Patel.
"Pageantry has definitely made me a better person and a more humble person because when a lot of people see me they don't really know I do pageantry. It helps me maintain my ground and teaches me life skills," Patel said. "Interview skills are skills you're going to need for your entire life and even writing a resume is something you'll need to know. [You also] meet so many people from all over the country, and I think that's really cool because you form friendships [and bonds] with people from every state."
Leave a Comment
About the Contributor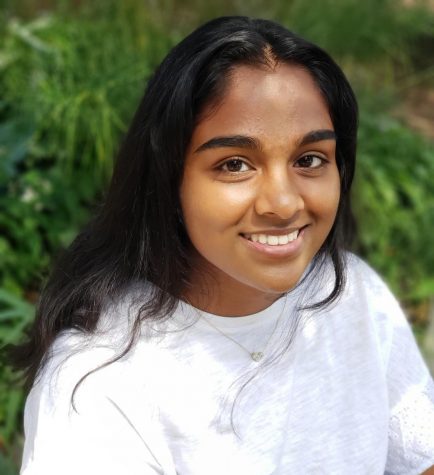 Sreelikhi Vangavolu, Spotlight Editor
As a senior, this is Sreelikhi's third year on staff and second year as the Spotlight Editor. She is a member of the Varsity Tennis team, a member of the...