Moving onto the Marines, Military Police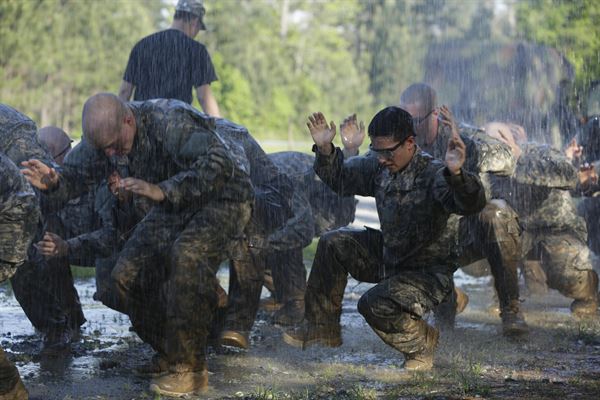 Goals are something that anyone can have, some people have to work day and night to reach the outcome they wish. Peter Tobin, senior, is a student who is striving to become a military police officer in the Marines through rigorous training.
"I just do everything that's going to be on the military fitness testing. It's kinda like when I was in football: constantly bench pressing, squats, deadlift. You work on exercises that will increase [those skills]" Tobin said about his physical preparation, but he also notes its harder to prepare mentally for his new role. "There's not a lot to train you for what you're about to go through; you're going across the country, can't talk to your parents, you have to write. You have to learn the respect and structure, it's not your average job."
Tobin continues to strive for this hard to reach , even through the challenges he has faced along his journey.
"I was scared of getting disqualified because of my knee surgery, I saw a lot of guys getting disqualified, some of it for just stupid stuff," Tobin said. "I had to get approval from their superiors to go up to the processing center, which I did, but it took awhile. I had to get them all the records and paperwork about everything.When I got there, I wasn't allowed to take the oath because [even though] I made it through the physical [portion], they needed to let their superiors know that I passed the physical test, and then I could take the oath. If I didn't pass the physical test, they'd probably disqualify me and say I can't join anymore."
Even friends like Cheyanne Gwizdala, senior, can see how Tobin is not average and a perfect fit for this career.
"He is a people person and very determined. He likes to do his own thing and doesn't really care what people think about his actions and what he likes to do." Gwizdala said. "He started to ask me about the marines and what I think about it. I told him to follow his dreams and what he believes in. He was very indecisive at first but he finally got the confidence to say, 'yes, this is what I want to do',"
Even through the hardships, Tobin continued to look ahead to the future.
"I'll probably be on my first assignment if I do go through military police. A year from now, I probably [will have] just started a new assignment, could be at a base, could be overseas. In military police school, it's where they think you should go and how you test for [the many jobs offered in the military]." Tobin said. "It's kinda up to me I guess."
About the Contributor
Marissa Drake, Staff Writer
This is Marissa's first year on staff and second year in the journalism program. As a sophomore, Marissa likes to take long walks to the fridge and spends...