Concussion Repercussion: how LZ students grow past brain injuries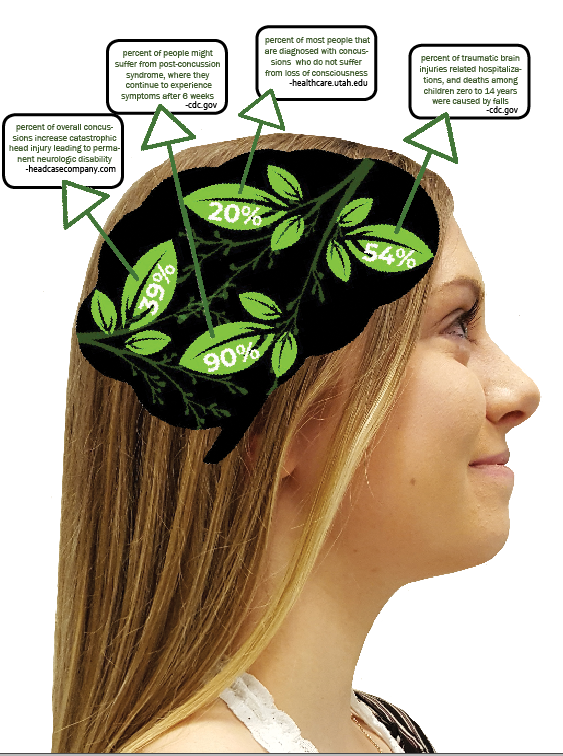 Most individuals move through their daily lives on auto pilot, going through similar motions from day to day, but for some students, an injury taught them not to take the ability to perform even the most simple tasks for granted.
Concussions are injuries to the brain that have numerous side effects, some concussions more severe than others. Experiencing such severe injuries and having to drastically change her life in order to recover proved difficult for Haley Wold, senior, who has had three concussions.
"I was a sophomore when I got my first concussion, and [it] happened [when] I was in a soccer match and I had the ball. Someone came from behind me and swept the my feet out from underneath me, so I rolled back and hit the back of my head," Wold said. "We didn't really know that it was the concussion so I kept playing in soccer matches, and I was in a lot of pain."
The concussion ending up having a lot of repercussions in the years to come both mentally and physically for Wold.
"There were a lot of issues [that I developed] from that. Throughout the concussion, I kept having really bad anxiety because of school, and I couldn't keep up," Wold said. "The main [issue] was because when you damage your optic nerve your eyes cannot converge, and if your eyes can't meet together then you can't read."
Due to these side effects, Wold decided to meet an optometrist to regain her eyes' strength.
"After I met with an optometrist, I started going once a week for eye therapy and things got better. Then, going into senior year, I got another concussion in PE class. It was a basketball to the back of the head, and it screwed things up all over again," Wold said. "I was freaking out at this point because I want to go to college next year and I was not about to sacrifice that."
After these two concussions, recovering took a long time and nothing ever went back to the way everything was before Wold was concussed.
"There is just so much intertwined [in your brain]," Wold said. "For example, you have this thing called your Vestibular System and mine got knocked out of whack. It can mess with cognition and perception and, that [makes] who you are."
Since her injury and its repercussions, Wold has started focusing on herself by making her personal health a priority. Another student who has also changed her priorities after her concussion is Erin Bajor, junior who suffered her first concussion from basketball.
"My earliest [concussion] that I remember was [when] I was playing basketball and a girl landed on my head. My friends made me go to the trainer [at our next game] because I fell over while trying to sing the national anthem, and I couldn't stand up straight or write my name,"  Bajor said. "I had to quit all my sports, and I still have eye problems."
These eye issues, among other side effects, caused many problems for Bajor in school, and also changed her perspective on what is important for her.
"I realized how to live life and take advantage of the moment [after] my doctor had talked to me about quitting all my sports," Bajor said. "I love snowboarding and tubing, and he asked me if I would want to go tubing and snowboarding with my kids for the rest of my life or if I would want to stay in high school sports."
Overall, both Bajor and Wold agree that their concussions have come with difficulties, but ultimately shaped their views on life.
"It's weird because what kid is usually going around thinking 'am I going to get hit in the head?'" Wold said. "[But] I would not be the same person without this happening and it has made me a lot more open minded and a lot more realistic."
About the Contributor
Parul Pari, Magazine Editor-in-Chief
After being in the journalism program for three years, Parul will be starting this year as a senior! Outside of the journalism lab, you can find her playing...