The gift that keeps on giving: NHS hosts food drive for local food pantry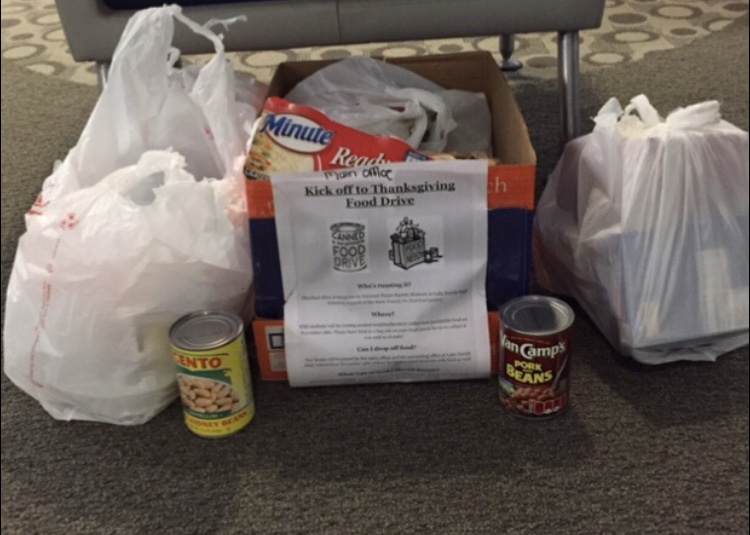 As the holiday season rolls around, National Honors Society (NHS) is giving back to their community by doing a food drive to donate to the local food pantry.  
 Nicole Marguerite, senior NHS secretary and food drive coordinator, has put together a food drive is benefiting the St. Vincent de Paul Food Pantry in Lake Zurich.  
"When I found out that no one was planning any food drive for them for almost the entire first semester, I decided to step in, especially because some weeks we have an abundance of food, and others we don't have enough.  I've noticed recently that there hasn't been enough food as we have needed to put out," Marguerite said.
During the average week, around the number of families that come to the the pantry varies around one hundred, according to Marguerite, who has volunteered at St. Vincent de Paul for the last four years on her own. 
"We tried really hard to spread the word about the food drive. We had NHS volunteers go around to different houses and hand out flyers, there is a competition among all of the FAME classes with which class can donate the most items, and we have given different reminders over the morning announcements about where to drop off food as well," Marguerite said. "There will be boxes in the main and counseling offices until November 20, and that is also the week that the NHS volunteers will go around and pick up items from the houses where flyers were distributed," 
The NHS volunteers stopped by as many houses as they could with the amount of flyers they had, according to Marguerite.  
Food items that can be donated includes anything from canned fruits and vegetables to bags of white or brown rice, according to St. Vincent de Paul's website.  
"So far this week, the drive has been very successful and is going great.  We are collecting lots of food for the pantry, and will soon be collecting foods from the house we distributed flyers to," Marguerite said.  "I am so excited to see the outcome, because I just want us to be able to donate as much food as we can to [them]."
About the Writer
Meghan Warner, Staff Writer
As a sophomore, this is Meghan's second year as a staff writer on Bear Facts Student Media.  She aspires to go to college at UNC Chapel Hill, in hopes...