Graduate returns to school to recruit for his passion, the Marines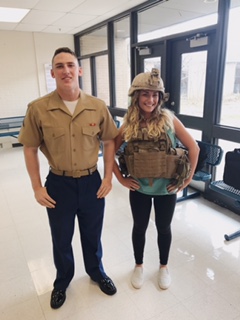 Since he was in elementary school, Pete Baldaccini, LZHS graduate and Marine, has had a passion to serve his country and enter the Armed Forces.  He recently returned to school in order to recruit for the Marines.  
"It's always been something I've wanted to do.  I wasn't super serious about it until first semester of my junior year, [and] I enlisted into [the program] in September of 2015," Baldaccini said.  It's tough, but I wouldn't want it any other way."
According to Baldachin, he is the only LZHS senior to go into the Marine Corps in seven years.  He enlisted in the delayed entry program of the Marines in his junior year, which allowed him to enlist, but not go into training right away.
"I came back to LZ because I like spreading the word about it.  There are so many benefits to it, like if you enlist, you can go to any Illinois State school for free for any major and get $180,000 for graduate school.  I didn't know about any of that, and I think it changes a sort of predetermined image of the military," Baldaccini says.
Baldaccini spent seven months in San Diego training.
"For seven months I was by myself and in a completely new world all the way across the country," Baldaccini said.  "I've sacrificed family time and the fun that most of my friends have in college.  It would obviously be way more fun to go to parties and 'slack off', but I'm in an adult world now."
Baldaccini says he has also been taught some valuable life lessons since entering into the Marines.  
"One thing I've learned is that you don't know what you're made of or what you're capable of until you are completely alone and have no one but yourself to rely on," Baldaccini said.  
Baldaccini entering into the Marines has not put a damper on his relationship with his family.  
"Pete and I have always been super close, so it was definitely weird when he left and not having a person to lean on all the time," Sedona Baldaccini, senior and sibling to Pete, said.  "It was especially hard when I came into school on the first day of my senior year, and he wasn't here, because we have always been in school together."
Sedona says Pete was not able to communicate for 3 months, but they still remained close.  
"He left four days after his 19th birthday, and we weren't able to communicate from August to November," Baldaccini said.  "Now he is able to have his phone during certain hours of the day, so we're always Snapchatting or FaceTiming each other."
About the Contributor
Meghan Warner, Staff Writer
As a sophomore, this is Meghan's second year as a staff writer on Bear Facts Student Media.  She aspires to go to college at UNC Chapel Hill, in hopes...