Speech and Acting team dominating the season; piece by piece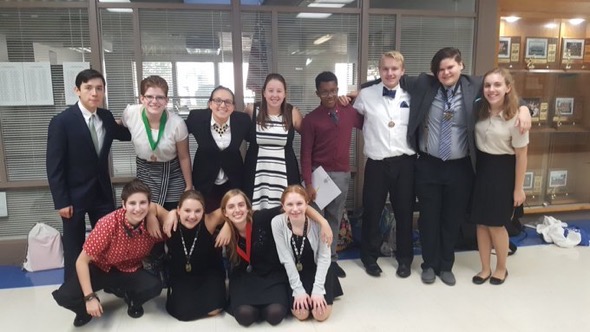 Hang on for a minute...we're trying to find some more stories you might like.
Waking up at the crack of dawn, putting on black formal clothing, and getting on a bus with nervous and excited students: these are things that only a Speech and Acting team member would understand.
On this bus ride to a tournament, students talk to their teammates and put in one last practice to memorize their piece. This competitive team of close-knit members has grown to relish the time when they get to speak up in front of a crowd.
Meeting every Monday to practice and competing in tournaments every so often on Saturdays, this team has grown tremendously, Shannon Eichwald, head speech coach, said.
"The club started five years ago," Eichwald said. "It began with a teacher who is no longer here, Mrs. Pocztowski. She started it with Ms. [Laura] Stanton and I was their assistant coach for that first year and then every year since we have had more and more students join."
As the team continues to grow each year, there have been notable improvements.
"We have been doing phenomenally," Eichwald said. "We had our first tournament and had more teammates place than ever before. We placed eighth overall in the tournament which is a huge success seeing that there were 16 teams there. I told my team two-three years ago it was our goal to not come in last."
Speech competitions consist of three rounds, each round full of people competing in the same event. Events can include anything from humorous interpretation to informative speaking.
Although performing individually at tournaments, Speech and Acting team members heavily rely on each other for improvement.
"I always thought of writing as something I do alone," Emma Brumage-Kilcourse, second year member, said. "Speech has taught me it is important to collaborate and other people can always help you improve. My piece has improved so much from everyone else workshopping it for me, and I got a lot more laughs than I would have otherwise."
Competing mainly in the event of Original Comedy, Brumage-Kilcourse joined Speech and Acting team to get better at practicing that and reading things she has written.
"You get up, tell jokes, and you do it in a character voice," Brumage-Kilcourse said. "In some events you write your own [material], which is the one I do, and in some events you are reading something else, like someone else's poetry. You have to see people's reactions [for comedy] and you have to gage what works and what doesn't."
Brumage-Kilcourse's performance is improved when she has positive reactions from the crowd, especially if it consists of her friends and fellow members. The team does not only help to improve each other's pieces, but also support one another on the day of the tournament.
"What is nice is that a lot of the time the rounds are staggered so you are able to go to a round that is not your own to support your friends and see other people," Brumage-Kilcourse said. "When you are in comedic events people just bring friends so you have a larger crowd to get an energy from. That is really the best."
Overall, the Speech and Acting team helps students grow in skills and friendships.
"I have seen students grow confidence wise and the way they are able to have a conversation with an adult, talk with people who they don't know, and form really solid friendships with people in the club," Eichwald said.
After being on this team, Brumage-Kilcourse has changed her views about what she use to think about writers and has grown to appreciate her teammates.
"I have really realized the importance of teamwork, and writing, and performance," Brumage-Kilcourse said. "We so often underestimate that fact. We always think of writers as solitary shut ins and most of the time that is not true."
Students on the Speech and Acting team learn valuable skills they are able to use in their future, like public speaking, but they learn even more than that. Growing in relationships and confidence, they have acquired lessons they will never forget.
"The coolest moment for me this year so far is watching students who I had four years ago who were freshmen are now leaders in our program," Eichwald said. "I think that was such a cool thing to see, I am just so proud of them."

About the Writer
Chloe Faris, Magazine Editor-in-Chief
Along with being Editor-in-Chief of the Bear Facts magazine, Chloe is involved with Yearbook, Student Leadership, Student Council, SNAP, and Interact....