Bears win in week five over Mundelein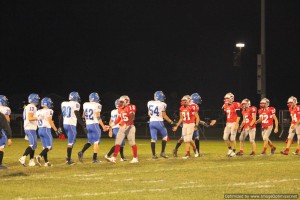 .
September 25, 2011 • Renee Griffin, Sports Writer
Filed under Sports, Top Stories
The LZ football team jumped to a 4-1 record after a win at Mundelein Friday with a final score of 41-7. All three phases of the team had a strong showing.
The Mustangs struggled against a stingy Bears defense, which in the first three quarters gave up no points and only 78 yards.
Senior quarterback Zach Till had a productive night, going 6 of 19 for 161 yards and 3 touchdowns. Two of those touchdowns were to senior wide receiver and linebacker Jack Lynn (4 receptions, 109 yards) early in the game. Till connected with junior receiver Jake Stauner on his other touchdown.
The ground game added to the score as well. Junior running back Connor Schrader (10 carries, 60 yards) had two touchdowns, and senior back Mike Shield (11 carries, 78 yards) had one.
LZ's special teams unit also excelled, with senior John Orlando returning two punts for over 35 yards in addition to a punt return TD called back by a penalty.