The science of teaching
Some say they want to stay at college forever and this student really is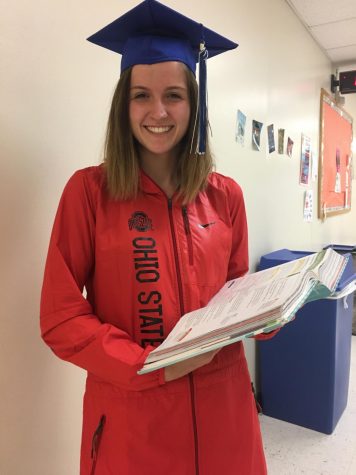 Most high school seniors are ready to spend the next four years in college but this student is ready to spend the rest of her life there.
Macy Vander Pas, senior, is enthusiastic, optimistic, and passionate: especially about her desire to become a college professor. Vander Pas is attending Ohio State University where she is majoring in neuroscience and math which she wants to one day use as a college professor.
"I decided on becoming a college professor because I really enjoying learning new things." Vander Pas said. "I'm excited to do research and basically be a forever student/learner."
Vander Pas chose her majors based on her interest and passion for both subjects. Since being a college professor requires a lot of research and knowledge of the subject, Vander Pas choose two of her passions.
"I decided on neuroscience because I have always been really interested in biology and anatomy and how everything works together in the body," Vander Pas said. "I also decided on math because it's always been a subject that excites and intrigues me."
In her high school career Vander Pas has been balancing a number of different classes and activities. According to Vander Pas, such activities like tutoring and managing the JV 2 softball team have helped prepare her for the future.
"I've learned how to balance a lot of activities, but also have fun in the midst of it all," Vander Pas said. "I've also had the opportunity to meet a lot of different people, and I think that will be helpful in the future as I go on to meet new friends, professors, and coworkers."
Managing the JV 2 softball team has also helped Vander Pas discover her reason for becoming a college professor: helping others learn and grow she said.
"Macy likes to give back. All of her jobs are about giving back and helping others be successful," Michael Kaufman, social studies teacher and coach, said. "She has been my manager for two years. She gives back with her job, where she goes and tutors and helps kids. Macy takes fulfillment in helping others be successful."
Such passion might explain why Vander Pas' favorite motto is, 'be fearless in the pursuit of what sets your soul on fire.' Vander Pas says she wants to attack every activity she is passionate about and "do it with a whole heart."
About the Writer
Kayla Krinninger, Staff Writer
As a sophomore, this is Kayla's first year on staff but second year in the journalism program. In addition to working for Bear Facts, Kayla also participates...