Girls' lacrosse storms ahead, beats Warren Blue Devils
The varsity girls' lacrosse team moved forward in their season with another victory as they beat the Warren Blue Devils on LZHS turf with a score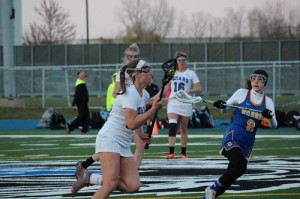 of 14-5 on Wednesday, April 29.
LZHS started out strong, scoring two goals within the first five minutes of the first half, both scored by Casey McGinnis, senior, with one assist from Emily Gillespie, junior.
Within the next minute of gameplay, Taylor Lores, junior, scored again for LZHS with an assist from McGinnis, bringing the score to 3-0. By the midpoint of the first half, Lores scored another two goals, increasing the team's lead over the Blue Devils to five points.
Warren was able to gain control of the ball, and after several failed shot attempts, the Bears recovered possession and Madison Horan, senior, brought the ball down field and scored, bringing the score up to 6-0 for LZHS.
Lores was able to make another two goals, both within a minute of each other, giving the Bears a lead of eight points with ten minutes left in the first half.
The Blue Devils recovered the ball after Lores' goal and were able to bring the ball across the field and score, but the Bears were not discouraged as Melanie Brown, freshman, quickly turned around and scored just a minute after the Blue Devils.
With six minutes left in the first half, Lores scored again for the Bears. LZHS did not score again in the first half, but Warren was able to score again with 56 seconds left, leaving LZHS in the lead by 10-2 at the end of the first half.
The Bears were able to keep the momentum from the first half going as the game continued, scoring another four goals and only allowed three more points for the Blue Devils. The game finished with an LZ victory of 14-5.

The next varsity home game will be on Wednesday, May 13 when the Bears take on the Conant Cougars.