Softball keeps up the fight against the Mundelein Mustangs
lexi fye, print editor-in-chief
April 28, 2015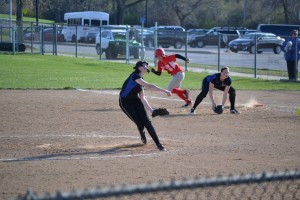 The varsity softball team continues their season as they play the Mundelein Mustangs on the LZHS softball field on Monday, April 27. Although the score ended with the Mustangs winning seven to five, the Bears managed to keep fighting through the seventh inning.
By the end of the first inning, the score was tied two to two, and it stayed that score through the second inning. At the top of the third inning, the Mustangs scored another run, making the score three to two. However, two pop flies caught by Amanda Guercio, sophomore, and Melissa Goldberg, junior, closed out the top of the inning. By the end of the fourth inning, the Bears tied the score yet again at three to three.
In the top of the fifth, the Mustangs got another run, but pop flies caught by Brittney Pettinger, senior, and Vanessa DiVincenzo, junior, again closed out the top of the inning. This left the score at the Mustangs winning four to three, and that kept through the sixth inning.
At the top of the seventh, the Mustangs hit into the outfield and were able to score three more runs, bringing the score to seven to three with the bears losing. After putting Ainé Mattera, senior, in to pitch for the final inning, it was back to the Bears. As the Bears were brought up to bat at the bottom of the seventh inning, they did not back down. With Guercio in base, Jessica Puccinelli, sophomore, hit a homerun, scoring two more runs for the Bears.
The game closed out with bases loaded with Goldberg on third base, Melissa Klein, junior, on second base, and Tara Wilkes, sophomore, on first base. With a ground ball that caused the last out, the Bears ended the game with a five to seven finish.
The two JV teams, who played at Mundelein, both won their games.