A close game and a crushing defeat
Laying on the field in disappointment, the boys' soccer team lost to Morton Grove 2-1 in the final eight of the Pepsico Showdown.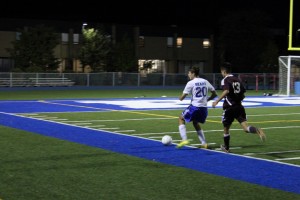 After the two intense 40 minute halves, the boys went into overtime. Morton Grove was the first to score in overtime, so they won the game and will move into the semi –finals of the Pepsico Showdown.
The game started at an uneasy pace, as both teams tried to figure out their opponent, according to Michael Schmitz, varsity boys' soccer coach.
"First half, we came out okay. Both teams were tentative since we do not play each other a lot," Schmitz said. "It was pretty much two good teams trying to figure out the other's style and play. We did not have our best effort, but we were working hard."
After the first half, the Bears came out strong and increased their speed of play.
"We were a lot better second half. We talked about things at half time, made some adjustments, and came out and took it to heart," Schmitz said. "I thought Morton controlled the first half, and we controlled the second half. We just created more opportunities and had more chances the second half. We came back with Collin Foreman's, [senior], goal, but unfortunately we could not get a second one to finish the game."
Unfortunately, as the clock hit a minute left during the ten minute overtime half, Morton Grove took it down the field and drove the ball through the net.