Boys cross country team crowned Sectional Champions, qualifies for State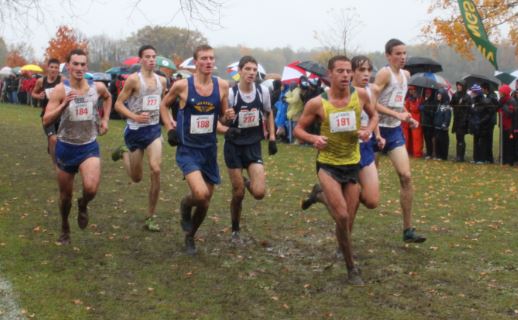 Hang on for a minute...we're trying to find some more stories you might like.
This past weekend may have been full of candy, costumes, and Halloween parties for the normal teenager. But for the boys and girls cross country teams, it was full of rain, mud, and victory. The entire varsity boys cross country team and Caitlin Shepard, senior from the girls team, qualified to race at IHSA Cross Country State Finals next weekend.

"It was 45 degrees, raining the entire time, and then coming into the meet, the ground was over saturated with water and it had big pits of mud everywhere," said Caitlin Shepard, senior captain. "Given the conditions, I think my race went pretty well. These were probably the worst conditions that I have ever raced in."
Shepard finished second overall in the race with a time of 17:56 minutes. She individually qualified for State  next weekend at Detweiller Park in Peoria, Illinois. The girls team finished 8th overall.
"I'm excited to have qualified for State individually, but at the same time I'm sad that the team did not qualify. We have worked so hard this entire season for the ability to qualify for State as a team and I feel that no matter what the outcome was, we had done everything training-wise to prepare us for that race," Shepard said. "No matter what, I'm still proud of my team this season."
The boys team had a strong race with 82 points, claiming victory as Sectional Champions. Matt Pereira, junior captain, won the race, finishing with a time of 15:40 minutes.
"[The] race went well," Kyle Griffith, junior, said. "I placed fourth and my time was 15:44, which isn't that great of a time, but for the course being a mud pit, the times were slow for everyone."
Pereira, juniors Brian and Kyle Griffith, and sophomore Patrick Burns finished in the top 20 with their fifth finisher, Nate Quinn, senior, placing 52nd.
"Next weekend I hope to place in the top 10 and for the team to get top 3,"  Kyle Griffith said.
But Griffith is not the only one with big aspirations for next weekend. Shepard also hopes to place in the top 5 or 10.
"I have some pretty big, but attainable goals for this upcoming Saturday. My goal time this weekend is to break 17 [minutes] and run in the 16:30's or low 16:40's," Shepard said. "By running those times, that should put me in the perfect spot to medal top 5. "

About the Contributor
Jemma Kim, Sports Editor
Last year, Jemma was the Bear Facts Student Media Editor-In-Chief and is now the Sports Editor. She loves getting involved within the school as she is...