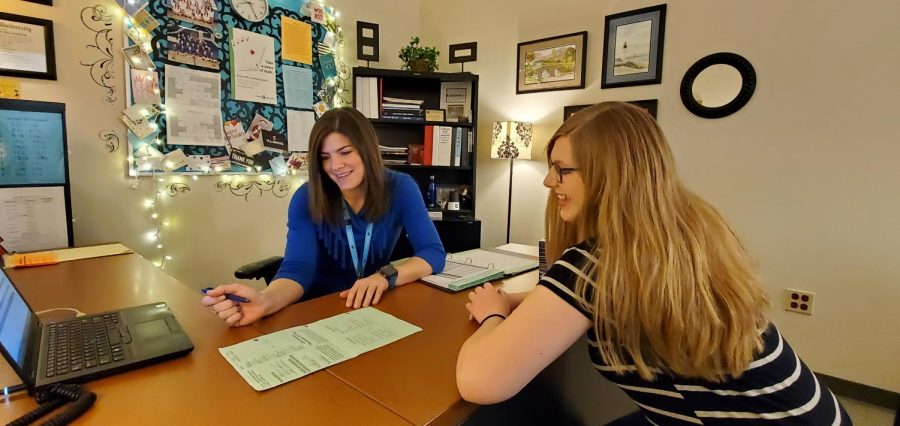 Photo by Sasha Kek
Counseling through crisis
Counselors aid students with more than just schedules
33.4% of students see their counselor for issues other than schedule changes and course selection according to a Bear Facts survey of 356 students, but statistics from teenmentalhealth.org show 1 in 5 teenagers experience a mental illness.
"It can be overwhelming at times [because] there are certainly a lot of needs out there," Laura Beata, HAO – LENG counselor, said. "Students definitely have a lot going on it seems, [so] I think you have to be very organized in this role. It's helpful to have a good memory, and if you're organized, it gives you more time to spend with students."
Organization is important as "everyone's a little bit different," with some students being able to "navigate high school really well, and then you have people that you see every week with different stuff," Beata said.
 "Sometimes [students come down for] ongoing stressors like family problems or peer conflicts," Beata said. "Stress around academics is common when people get worried or overwhelmed with classwork, or if they've been absent, they're trying to make things up. It could be anything from self harm or suicidal thoughts; those would be things that you drop everything for and need to address right away." 
When a student does have a crisis relating to self harm or suicide, "typically we will try whoever the student has requested to see first," Beata said in order to help the student.  
"It's really more of a student services team thing more so than just one person," Beata said. "If last period someone came down here, I wouldn't have been here because I was in a meeting, then [the student services team] would try and find either someone the student has already met with, or if the student hasn't ever met with anybody, we really just find an available social worker, psychologist, or counselor to help."
Although counselors are a ready resource to contact about mental health problems, students like Tim, a sophomore boy who struggles with anxiety and stress disorders and wished to remain anonymous, says he initially found it difficult to reach out because he was not confident to talk about his problems.
"I feel as though I didn't have the confidence to bring up the conversation to anyone," Tim said. "In the past, I was afraid of my parents knowing, but I'm working with being closer with my family and parental figures, along with friends and counselors, and I wish to become a better person. I don't feel as though my mental health was that great, but I feel like it's getting better and I want to continue the improvement."
In order to improve his mental health, Tim plans on contacting his counselor because "my attempt to try to solve [my problem] has been very poor," Tim said, and believes his counselor will help him solve it, as well as other problems that students may have . 
"I think just the fact that the students are able to contact [the counselors] really helps, and they're able to look at a student's situation and help them make better decisions," Tim said. "If they need to get additional help, they can tell the parents, so that the student can have the best support they need."
It may be hard for students like Tim to see their counselor,  but it would benefit them because "sometimes they may have this mental illness because they can't actually talk to their friends or family," according to Kelly Sibert, junior who sees her counselor monthly for personal check ins.
"The social worker and counselor really talk to you anytime they can in order to really understand what you're going through and it just helps to get your feelings out there without anyone judging you," Sibert said. "[Students with a mental illness] may feel they don't really have that friendly, close relationship with their teachers or counselors. They may feel like school is just school, not a place to build relationships with either teachers or counselors."
Some students are "too afraid to open up about their problems, or perhaps don't realize the problem they're facing," Tim says, which is why counselors are "not being used to the best advantage". But that should not keep students from seeing their counselors.
"I think students should actually see counselors at least once a month to be able to stay updated with them so if a problem does arise, they'll feel much more comfortable with them," Tim said. "I just feel that students should use the resource of having [counselors] around to their advantage while they have that advantage."
Meet your LZ counselors: