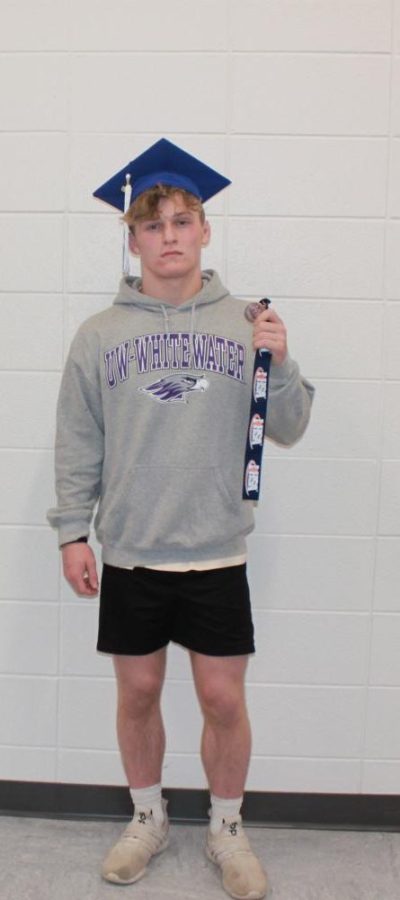 Photo by Tessa Fabsik
Wrestling through challenges
For the last four years, Scott Busse, senior, has been fighting the odds after several injuries taking place during his wrestling career.
Busse has been wrestling since third grade, and although he started wrestling to follow in his older brothers' footsteps, Busse quickly surpassed their skill levels.
"I had some anger issues when I was little so I wanted to get it out somehow [and] wrestling definitely helped. I liked winning," Busse said. "[At] my first tournament, I [placed] second, but, then I went through a mental block in fourth grade; I kept losing and I hated it. But [I'm] really stubborn, so I kept going and eventually started winning again."
Busse also faced physical challenges throughout his wrestling career. At the state meet during his junior season, Busse broke his ankle: an injury that would take him out of the season.
Then, during Busse's senior season, Busse tore his labrum — the cartilage in the shoulder joint. Although this injury would later require surgery, Busse decided to strengthen the muscles around it in order to complete his season.
"There would be practices [as short as] 20 minutes, [but] my shoulder [was] throbbing, [so] I would sit out the rest of practice," Busse said. "I wasn't letting my season end with another injury."
Despite the turmoil, Busse ended up placing 5th at the state meet. Busse says he sees his 5th place medal as the first of many wrestling achievements. Busse will be wrestling at UW Whitewater where he's aiming to get an All American Title. Overall Busse is proud of his accomplishments, but he does lend some advice to young wrestlers.
"Have fun [wrestling]. You are gonna have ups and downs, but do not let it deter you [from] the sport," Busse said. "Wrestling is an unforgiving sport and if you keep pushing through it, you're gonna have some kind of success."