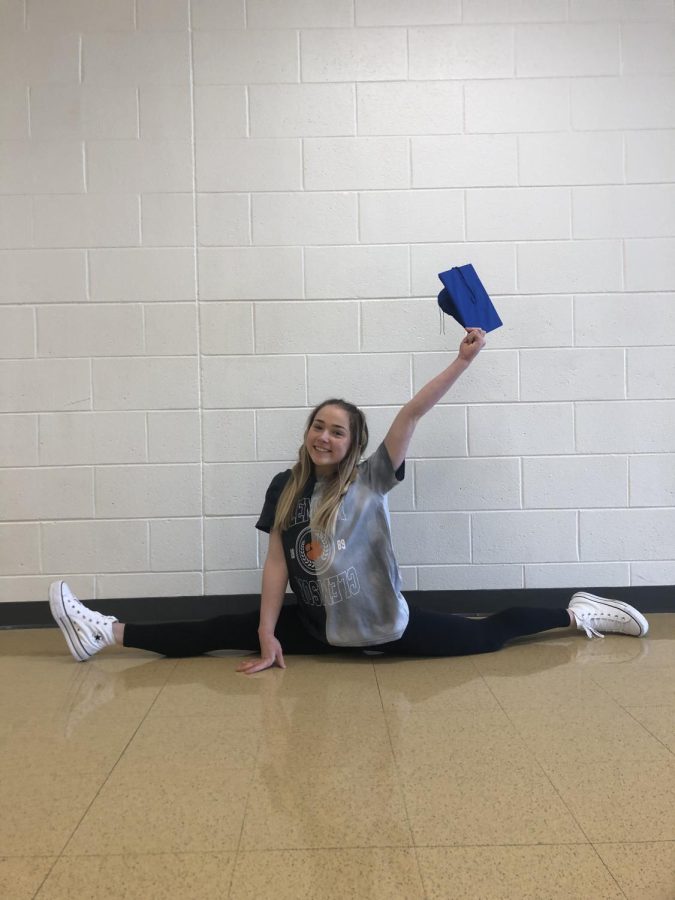 Photo by Sashrika Shyam
Fueling her passion
Senior's passion for food, gymnastics continues
From competitions, to kitchens, to classrooms, the work does not end. When some students have chosen to spend their senior year as a break from the previous grade's rigor, Grace Lacrosse, senior, has done the exact opposite.
Throughout her last year of high school, Lacrosse has spent her time in many gymnastics competitions and in many challenging classes.
"It's hard [to manage the work]. I'm very fortunate that things aren't very hard for me in school," Lacrosse said. "I go to practice from three to seven and then come home, eat dinner and do my homework right away."
Throughout high school, Lacrosse has taken multiple AP classes in order to prepare herself for her future career. More than anything, her sport has influenced her career.
"I'm attending Clemson University in South Carolina and I plan on studying health sciences," Lacrosse said. "Being a gymnast, I've had injuries in the past and I like looking at X-rays and helping my friends with their injuries. I've always known that I wanted to be involved in health sciences."
Lacrosse says that her love for gymnastics started at a very early age, but has experienced mixed emotions about her sport.
"I was two [when I started gymnastics] in Mommy and Me classes, but I didn't know until recently that I wanted to continue [gymnastics] in college," Lacrosse said. "When I was a freshman I didn't compete at all. I had lost my passion for the sport. Over time, I gained back my love for the sport."
Emme Langefeld, senior and friend of Lacrosse, says she has seen how her love of the sport has impacted Lacrosse's personality.
"Gymnastics is one of Grace's main motivations," Langefeld said. "It's such a big drive for her and encourages her to be better."
In addition to being her passion, the sport has also brought Lacrosse a hobby. Gymnastics has led Lacrosse to focus on what she is eating, contributing to her long lasting love of food.
"I have loved [cooking] my whole life. My mom has videos of me cooking from a really young age," Lacrosse said. "I loved watching Food Network and pretending I have my own cooking show; I've always had that passion."
On top of cooking whenever she can, Lacrosse chooses to share her passion with her more than 3,000 Instagram followers.
"I started an Instagram account, The Fresh Avocado, to share my food. I never imagined that it would become a hallmark of my personality," Lacrosse said. "After starting it I just became obsessed with making food look pretty and coming up with my own recipes."
More than any of her achievements, Langefeld says she is proud of Lacrosse for the person she has become.
"I love watching [Grace] put a smile on everyone's face," Langefeld said. "I've watched Grace grow into herself and watching her shine in everything she is passionate about is truly amazing."