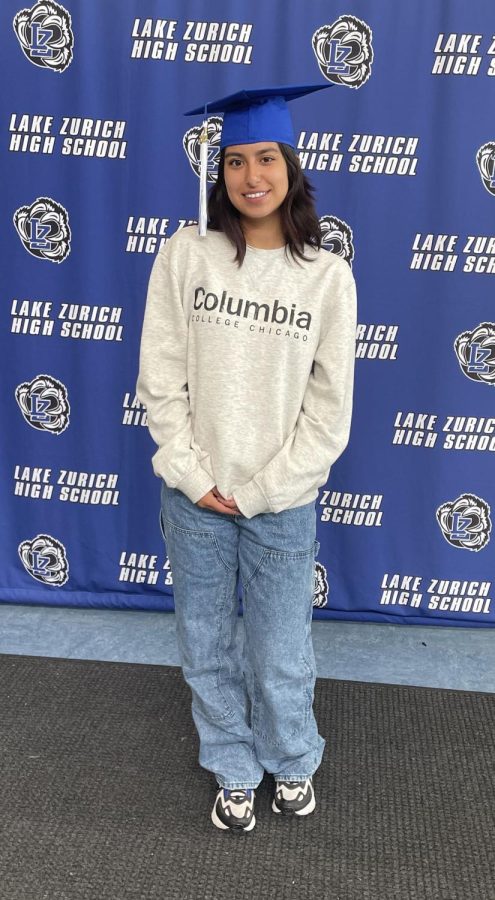 Photo by Emma Harper
Designing her future
Fashion is her passion and is going to be her career. Samantha Romero, senior, will be majoring in fashion design next year.
"I really hope to have my own fashion line, and design people, and have my own little online boutique. And then like, in the long long term, I would really want to dress people for the Met Gala or the Oscars," Romero said.
Her love of fashion began in 2020, when Romero began experimenting with her clothes.
"Over quarantine I definitely expressed myself more with my fashion because I guess I used to dress basic. When COVID came and I was stuck with myself I realized this is not how I want to dress," Romero said. "So then I just researched a lot and discovered my own style, from there I was like, this is fun, I want to design clothes."
Romero will be the first person in her family to attend a four-year college.
"I definitely felt more pressure on me to go to school because my older brother wasn't going to go to school," Romero said. "So it was a lot of pressure for me to decide."
Romero decided she wanted to attend Columbia College Chicago at the end of her junior year and will go there next year.
"That was the only school I applied to. If I didn't get in I would have just gone to CLC for two years and then figured out what I wanted to do," Romero said.
Fashion is not the only thing she does though, Romero is on the varsity soccer team and has played since she was three. She has met some of her good friends on the soccer team including Erin Bohn, sophomore.
"On the soccer team, she's very inclusive of all the new players. She's very nice to the freshmen and the younger ages. She's a good leader. She plays center mid so she's very good in the middle," Bohn said.
Not only is Romero a role-model on the soccer field, she is also a positive presence throughout the school and in her arts classes.
"She has a contagious smile, she seems like she has her own personal style already," Kristin LaJeunesse, art teacher said. "She's not afraid to try something new."