Ukrainian welcome event
November 18, 2022
This Saturday, November 19th, an Ukrainian welcome event will run from 10-11:30 am at the Ela Area Public Library. 
This event is a great opportunity for anyone who has friends or relatives who recently moved to Lake Zurich from Ukraine. Ukrainian immigrants, visitors, and refugees are invited to join the library staff for breakfast treats, art projects, and information about the library. 
In addition, Ukrainians can learn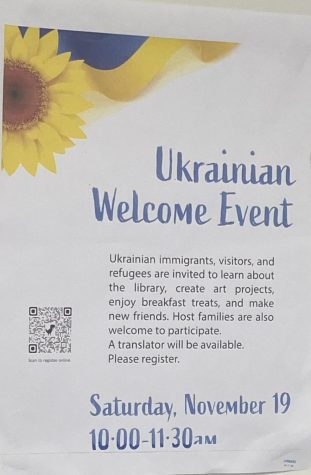 about the Ela library's materials and services and make new friends. Host families are welcome to participate, too. 
One student who moved from Ukraine to Lake Zurich at the beginning of this school year, says that the event is a good resource for Ukrainians. 
"[The welcome event can help] Ukrainian students and other people feel support, and meet other Ukrainians who can help them feel better about the process of moving to America and the difficulties they have faced," Yuliana Zhelezniak, senior, said. 
Zhelezniak says that she is glad Lake Zurich is offering more opportunities for Ukrainians to feel welcomed in the community, and make them feel like they are a real part of it. 
"I have gotten a lot of resources at the high school itself to help me and my Ukrainian friends feel we fit in in terms of the learning experience. But outside of school it isn't always the same, so I'm glad that they are hosting the welcome event. It makes me feel more comfortable here even though I still miss my home," Zhelezniak said. 
A translator will be available throughout the event. The library staff asks that anyone interested in attending should register at eapl.libnet.info. 
As a reminder the social gathering is open to all ages, so register if you are interested, or let others know if you think they would like to come!