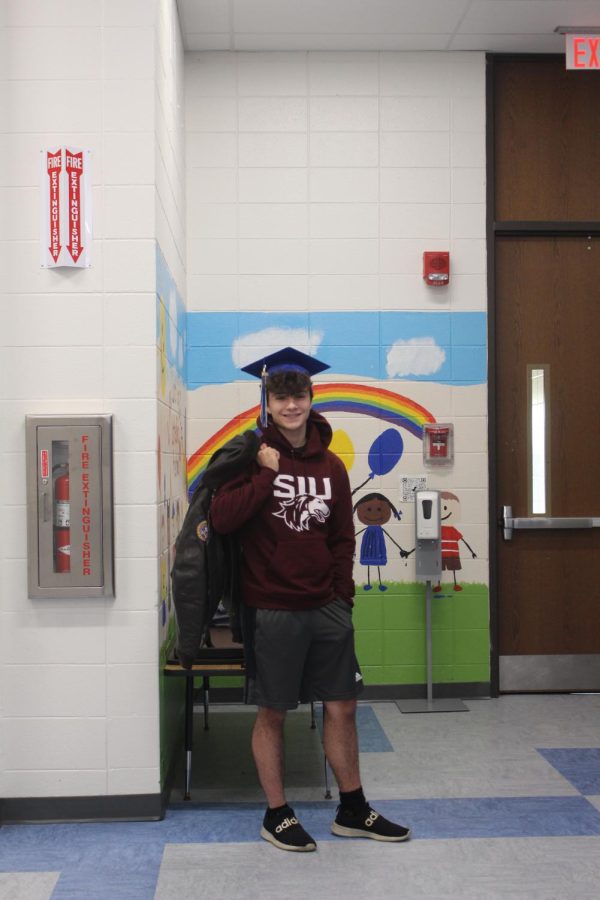 Photo by Sophia Babcock
Senior soars into future
Lots of seniors started the journey toward their futures on April 29, College Decision Day. But Jake Mack, senior, says he has spent his whole life on a journey to achieve his childhood dream job.
"I think I was actually watching YouTube, and I saw a video of a carrier landing and I was like, 'That's so awesome.' After that, I kind of dove into what it would actually mean to become a pilot [and] what they do. I got hooked on the whole pilot idea," Mack said.
Because of the spark Mack felt as a child, he decided to pursue piloting and will be majoring in aviation at SIU. But Mack already has years of experience in the field; he started his aviation training five years ago when he joined the Civil Air Patrol (a program for aspiring pilots) during 8th grade. He has been involved in the program ever since, including taking on some leadership positions.
"I've had the ability to like teach people all sorts of crazy things, you know, I've been on the naval bases, leading flights, all that type of stuff," Mack said. "So I kind of had the opportunity to teach people not only you know, character elements type stuff, but like this is how you lead a flight. This is how you command and I've been able to take on that mentor role for quite a few people."
Throughout high school, Mack has been involved with wrestling, band, robotics, engineering classes, as well as honors and AP classes every year. His academic rigor has always been high, according to his friends, and his involvement at LZHS has only increased as the years have gone on.
"He was very geeky, very much a nerd. All I could think about was that he was just this geeky band nerd and then as time went by, I realized how mature he was and how he was into so many different things," Taylor Nowak, senior and Mack's friend, said. "[He is] spontaneous, intelligent, and honestly very loving."
Despite all of Mack's successes, however, his life has not been without its struggles. In 6th grade, he lost his father.
"I think definitely the biggest lesson I learned came from when my dad died," Mack said. "It was kind of just the idea that you have to make the most of all the time you have. Especially relationship wise, like you know, you should go home and say I love you because you don't know what's going to happen. You don't know what's going on. So you really just have to make the most of everything."
Mack says he has used his dad's passing as a point of growth as he has learned how to overcome such a traumatic event. He says he has used it as a motivation in his life to be self-sufficient and caring towards others.
"It kind of taught me [about] post traumatic growth. When something really bad happens to you or you feel like you've hit a new low point, it's this idea that once you're down there, and you're in the 'mud' of it, you have an obligation to yourself to make your way out of that and live a life that you're proud of because you've been through it, you've been through this hardest point. And now you have to pull yourself up by the bootstraps, like you have to do whatever you can to live a life you're proud of. And I think I took that unconsciously, and then went running with it," Mack said.
Despite his hardships, Mack says he has developed himself through his time at LZHS, and he hopes to help others achieve their best lives, too.
"It's kind of like a pay it forward type thing. So I had the support structure and I had all these people that were influential and kind of shaping me into who I am today," Mack said. "I want to be like that for other people."