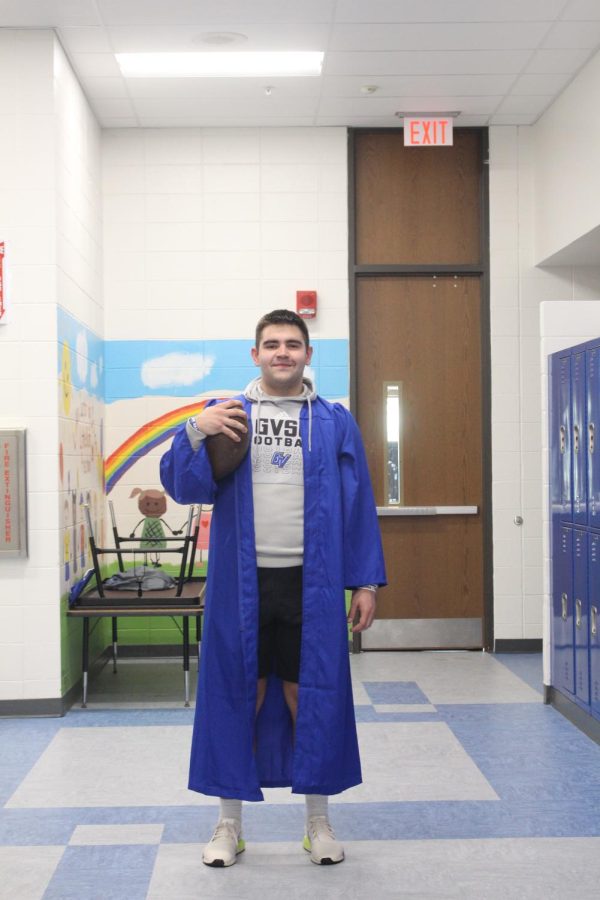 Photo by Sophia Babcock
Scoring with football
If someone asked him four years ago where he would be in his football career, his answer would not include being recruited to play college football with a full-ride scholarship – mostly because he never played football growing up.
Aleks Popovic, senior, played basketball all throughout his childhood, but when people started telling him to play football "because [he] was a bigger kid," Popovic tried out for the team freshman year, and his football career kicked off.
"I played defensive end [sophomore] year and I got a scoop and scored a touchdown," Popovic said. "That was my first ever touchdown in my life. It was definitely an eye opener to [the] feeling you get from football. And that's one of the biggest things that made me kind of fall in love with the game and ever since, I realized that what I wanted to do is to play [football]."
Since then, Popovic has played on the varsity football team as a tight end offensive player. Taking after his hardworking parents, Popovic says he hasn't stopped trying to improve both himself and his team. For him, the sport is more than just having physical skills; it's also about having dedication and leadership.
"I work very hard. I always want to learn about my position [to] see what I can do to get better and fix anything that I could fix and train to be the best version of myself that I could be," Popovic said. "[I try to] bring people up that are around me. Instead of pushing them down, I want to make sure everyone succeeds as a team instead of it just being a solo thing [so] everybody [can] achieve excellence." 
And according to Popovic, these values will extend past his high school career. His devotion to the sport and the leadership skills he's learned has made him want to "play at the next level" in college.
Popovic will be playing football for Grand Valley State University while double majoring in political science and business. Though he received many offers from other schools, including Vanderbilt, Yale, and Northwestern, Grand Valley was the school where he "could really strive and make the best opportunities for [himself]," he said.
"Grand Valley is known to have a great football program. They win their majority of the games and hopefully, [I can be] as good as I can and bring home a championship. I want to make sure I'm anchoring down on my academics and be a great athlete as well as a student. Overall, [I want to] have the best of both worlds," Popovic said. 
While Popovic has his goals set for college, and even plans to attend law school in the future, playing football professionally isn't completely out of the picture.
"If the door opens, it opens. That [would] be a great opportunity [to play professionally]. We'll see how it all plays out. I mean, obviously that's [the] goal for everyone, but I don't want to put all my eggs in one basket," Popovic said.
Becoming a professional football player is a future possibility right now, but nothing is set in stone. However, Popovic's love for football will remain unchanged. In fact, Popovic says there is nothing he does not like about the sport.
"[I love] the brotherhood you get with the guys. Instead of maybe a 15-person team like basketball, there could be up to 100 people on a football team. You get a lot of good friendships and relationships there. I built good connections with coaches. On the field, it's everything," Popovic said. "It's taught me to become a better man. Better student, better athlete, better all around human being. It teaches you the importance of hard work, being there for people, [and] fighting for the person next to you."