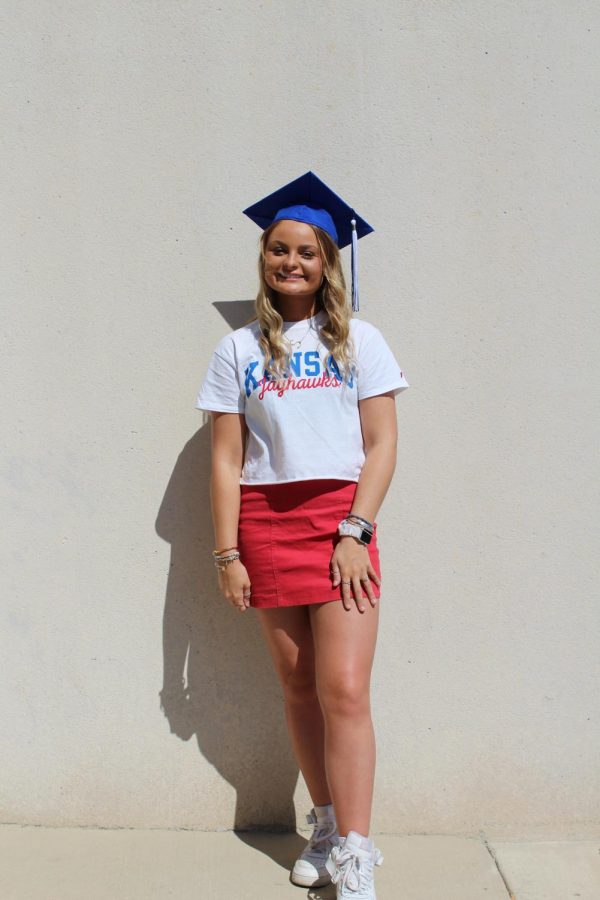 Senior shows smile at all times
"Why be mean, when you can be nice?"
This motto is what Sara Webster, senior, lives by from the time she wakes up, until she returns home after a day of school, work, and volunteer experience.
"Being positive is second nature to me," Webster said. "Ever since I was a little kid, I always felt warm and happy whenever I helped someone, or was kind to a person that I may not have known well, or at all."
Webster says the revelation that being nice was the best option came to her in middle school, where she realized the negative power that words could have on a person.
"I was walking down the hallway, and somebody was crying and crumpled up on the ground," Webster said with tears in her eyes. "[I] went up to them and asked them if they were okay, and they told me that someone had said extremely hurtful words about them and their family. As I talked to the student, one thing that I remember them saying, in particular, is that the other student said that they were better off dead."
With those words echoing in her ears, Webster said she decided from then on that she would always use her words to be positive and try and help others. The want to do good and be positive was recognized by one of the teachers of the high school.
Victoria Foss, Sara's Honors US History teacher, remembers Sara, and her kindness especially during her first week as a long term sub for her teacher.
"It's very hard to remember everyone's name, and Sara looked like this girl named Paige that I had in eighth period, and so for a few days, I kept calling her Paige," Foss said. When Foss would mistakenly call Webster the wrong name, Webster "would respond, 'It's okay, you can call me Paige!' The positivity and easy-going nature really made me feel comfortable during my transition into being her new teacher."
Webster's willingness to help people goes outside of just her classes. She is a leader for freshmen in the FAME program, along with helping sophomores at a church retreat at St. Francis de Sales, all of which are ways that Webster is able to take part in the community.
"Sara has been such an amazing role model for me, especially during a time that stress and starting high school in person have caused me to feel worried about being back in the building," Samuel Amburg, freshman, said. "Sara's ability to brighten up the Zoom screen is one of my favorite parts about FAME."
Webster says that, "all that someone needs is a few pick-me-up words" that can make someone's day. 
"The power of words is one of the most important weapons that anyone can have," Webster said. "Instead of using my words to bring people down, I want to try to bring them up."