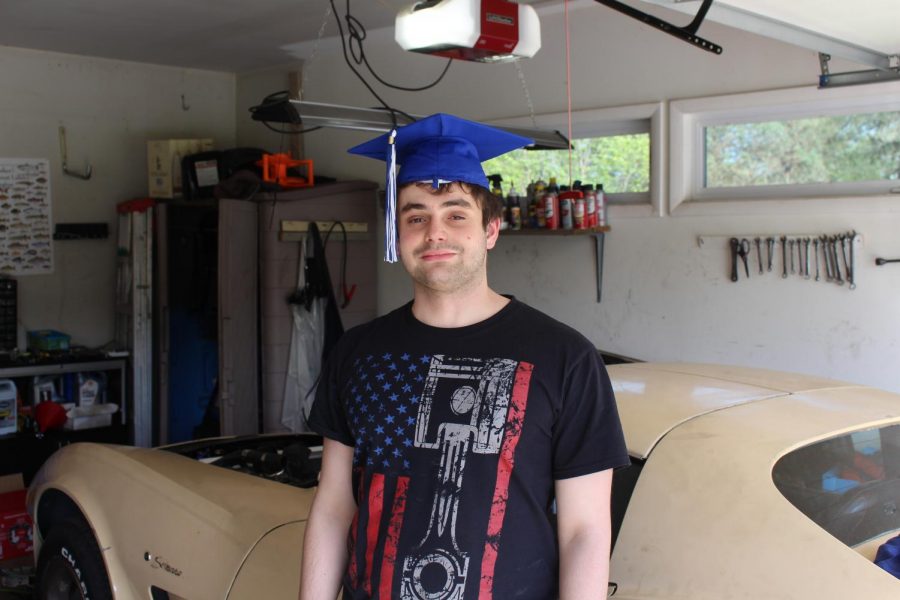 Photo by Zach Woitel
Growing a passion for restoring the broken
The story of senior Val Zarkh and his dream of rebuilding old cars and restoring them to a state of Beauty
This senior turned his passion into a hobby, and now that hobby may turn into a career. Val Zarkh, senior, wants to own an automotive restoration shop one day so he can restore damaged classic cars to their former state.
"[My inspiration] was mostly my grandpa because, even back when I was three years old, we used to play 'garage', and he'd say, 'What's wrong with it?' and be a mechanic and I'd get parts for him," Zarkh said. "He's been my inspiration because he knows a lot, and he used to be the leader of [a] 3,000 person company back in Belaruse. So he knows a lot about this stuff, so it's kind of been my inspiration."
Zarkh wants to follow in his grandpa's tire tracks instead of taking a more traditional career route.
"Everybody told me, 'hey, go into [corporate] business, everybody's doing it, but it didn't make me happy. I was kind of like, 'okay, I'll get money,' and then that's the end of it," Zarkh said. "But [automotive restoration] gives me satisfaction and fulfillment, and that's what I really like about it."
After Zarkh learned how to fix automobiles, he decided to take the next step and sell his first car. He bought a 1970s C3 Corvette that wasn't running to start a full rebuild of the car and engine to get it running again.
"[Val] went from point A to point Z basically without any help. […]. Through all of the frustrations and all the hardship, that's him. He's doing all of it. And once that car starts, it's his successes that made that car a reality." Rudy Tabachnik, junior and Zarkh's friend, said. "So when we talk about car enthusiasts, when we talk about mechanics, when we talk about car culture, he would be the epitome of what that is."
Zarkh's passion for cars grows more and more each day that he works on his car, and in the future plans to go to McPherson College in Kansas to learn about them and restore them, before getting a job in a garage and eventually owning his own shop.
"I see it as a reality but only if I put in the work," Zarkh said. "You don't get anywhere without putting in the work, so […] I'm gonna have to go to college, get some experience somewhere, get some money, and then start that and try to make that a reality. [I plan to] just take things step by step, day by day, and try to get there but I see it as a reality if I put the effort into it."