Adult vs child
How children respect their elders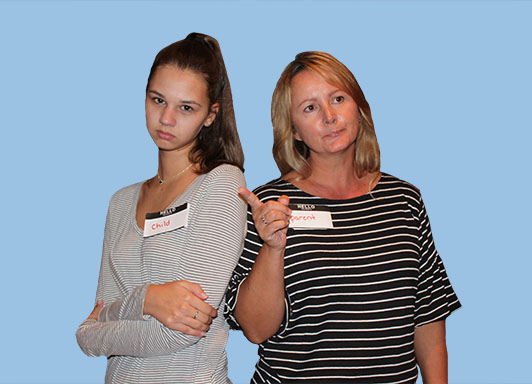 Hang on for a minute...we're trying to find some more stories you might like.
The saying goes to always respect your elders, but with the different adults in students' lives, there is a different in how they are respected.
Going from school, to sports, to home students are often met with an authoritative figure. Alina Malin, sophomore, notices there is a difference in how she treat the adults in her life.
"You respect your teachers because their job is to teach you and make you a better person, but sometimes you just have to treat them with respect and [not] agree with them. Your parents they are there for your whole life and not just there for one year for 44 minutes a day, so you respect your parents in more of an honest sense," Malin said.
While the common thought may be that the adolescents in this day of age are more disrespectful, Bud Zasadil, math teacher, sees something different.
"I think kids today are more respectful than I think they were in my day," Zasadil said. "We are becoming a more sophisticated society. There is a lot of what you see in society, [for example] parents are doing a good job to teach their kids to be respectful and modeling that at home. Parents are becoming better parents."
While Zasadil believes it is a change in society and better parenting, Malin says it is for a different reason.
"I respect most of my teachers because they want to make me better as a person. They have been through a lot more than me, and even if I don't agree with what they are doing, I know that they are still trying to help me," Malin said. "I think most of our peers treat the teachers with a lot of respect too, if it's a good teacher. In certain classes some people would talk behind when the teacher is talking, but I do not think it's as much disrespect as just talking to their peers and being bored."
Julie Gyarmaty, science teacher, believes the students also respect her because of the way she treats them.
"It is important that your students respect you," Gyarmaty said. "I try to set a good example by being respectful of my students and by doing this, the vibe in the room would create mutual respect."
Though Malin says she respects her teacher, there are some circumstances where her respect can decrease.
"I think you should respect elders who are worthy of being respected. I think it's almost like when you meet someone you should automatically respect them and if they do something that goes against your morals then your respect can decrease."

About the Writer
Chloe Faris, Magazine Editor-in-Chief
Along with being Editor-in-Chief of the Bear Facts magazine, Chloe is involved with Yearbook, Student Leadership, Student Council, SNAP, and Interact....