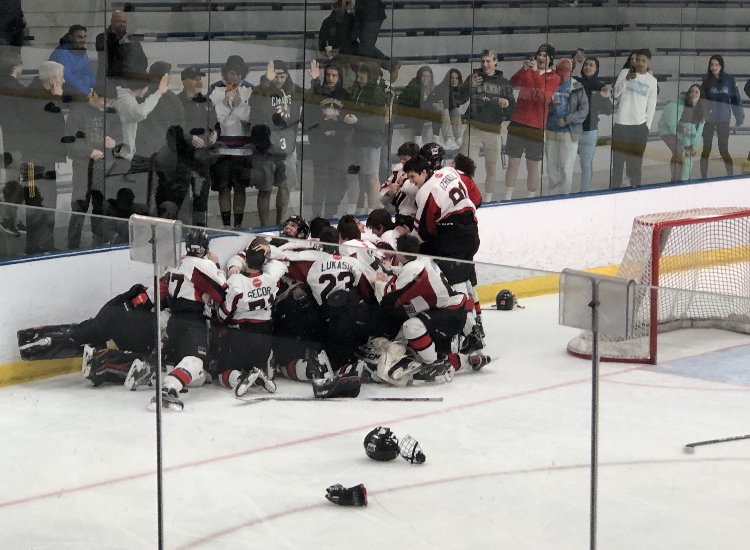 and used with permission of Ben Lukasik
In trying times like these, many people have found escapes within their lives, something that clears their mind and makes them forget momentarily about everything that is going on. For some people that escape is art, or books, or a hobby. For Ben Lukasik, senior, it's hockey.
"Hockey is an escape. I don't have much free time to do anything, but hockey is my time," Lukasik said. "I get to get rid of all my negative emotions and just focus on the task. The [more] I relax, the easier things are for me."
Lukasik started playing the sport because of his family members' experience in playing, and because of the mobility that being on a travel team gave him. 
"My favorite thing about hockey is traveling. We get to travel everywhere from Texas to Colorado, and all over Canada, " Lukasik said. "Although it is very stressful with school sometimes, weekends with my team are the best. My favorite memory actually comes from winning a championship and advancing to a national tournament."
With any sport, the fun times always have to have hard work attached to it. Lukasik believes that especially with hockey, putting in the hard work and practice pays off.
"The hardest part of hockey is how physically demanding it is. I skate roughly 5 times every week and have additional workouts," Lukasik said. "With all of these workouts and my practice rink [being] 40 minutes away, it eats up a lot of my time."
Although his schedule was extremely full before COVID-19 occurred, the pandemic has actually allowed Lukasik to find a more normal schedule, such as this one he has now with his team. He plans to push through the chaos of the current times and "keep playing as long as he can".
"My [main] goal for hockey is to always have fun. Once I stop having fun I am going to quit," Lukasik said. "I am planning to [continue] playing club hockey in college until it stops being fun [for me],  which of course I hope doesn't happen."