Racing for the dream: Cross Country seniors qualify for Nationals together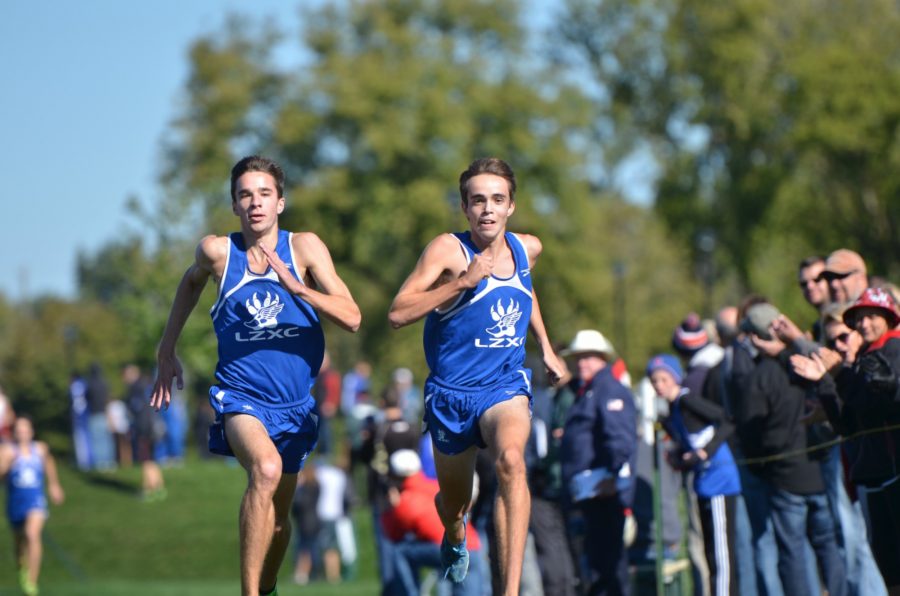 With four years of track and cross country, multiple state and regional runs under their belt, seniors Brian Griffith and Matt Pereira made it to the Foot Locker National Championships, and made history by being the first non-siblings from the same team to qualify in over 30 years.
Griffith and Pereira earned the opportunity to compete at the Foot Locker National Championships for Cross Country in San Diego, CA this weekend after qualifying at the regionals meet about a week ago.
"We went through a regional qualifier in Wisconsin. There are four regional qualifiers and our region is the Midwest so it's thirteen states," Griffith said. "We ran at that Wisconsin course about a week and a half ago on a Saturday, and then the top ten boys of those 13 states qualified to Nationals."
The boys have been running together since sophomore year and say they never thought they would make it this far.
"This was a big milestone in my Cross Country career in high school and it's the last race," Griffith said. "I never imagined that I'd be where I'm at in the state right now or competing at Nationals. Definitely a surprise for me."
The two claim that reaching this milestone had a lot to do with their coach, JB Hanson.
"Coach Hanson, at the high school, was probably the biggest factor because, before I came to the summer camp, I really wasn't training that hard," Pereira said. "His philosophies and training program allowed me to get to where I am and allowed our team to be as good as it has been these last few years."
In addition to crediting their coach, another key to becoming a better runner is "steady progress," according to Pereira.
"We train year-round and we try to increase our mileages. One of the keys to getting better is continually progressing that [mileage], if you can," Pereira said. "It's all individual. You  run what you've earned and you're capable of in terms of how much you run per week."
Currently running about 50 miles a week, both Griffith and Pereira have reached this point together. Qualifying for Nationals and coming from the same school and same team makes this experience rare, but the boys are excited.
"It's not too common for two teammates to go, so I'm excited for it," Pereira said.
Pereira is not only excited to share this experience with his teammate but also to meet other runners.
"I love meeting all of the other runners from around the country," Pereira said. " It's a pretty cool experience and you don't always get to spend this time with them and get to talk to them so much, so that will be a really cool part."
The two say they are excited for this experience and praying for the best this weekend. Being their last race on high school Cross Country, however, they just hope for good races and to finish strong.
"Hopefully everything goes well in the race and I just have a good race," Griffith said. "I think I'll be content with whatever place I finish in, but as we go I want to try and get top 15."
The race begins Saturday, December 10 at Balboa Park with girls running first at 9:15am and boys following them at 10am. By the end, one of the 80 will be a National Champion of the Foot Locker 5K.
About the Contributor
Megan Monoson, Magazine Editor-in-Chief
As a senior in her third year on staff, Megan (spelled the right way) will be taking on the role as Magazine Editor-in-Chief of Bear Facts Student Media....