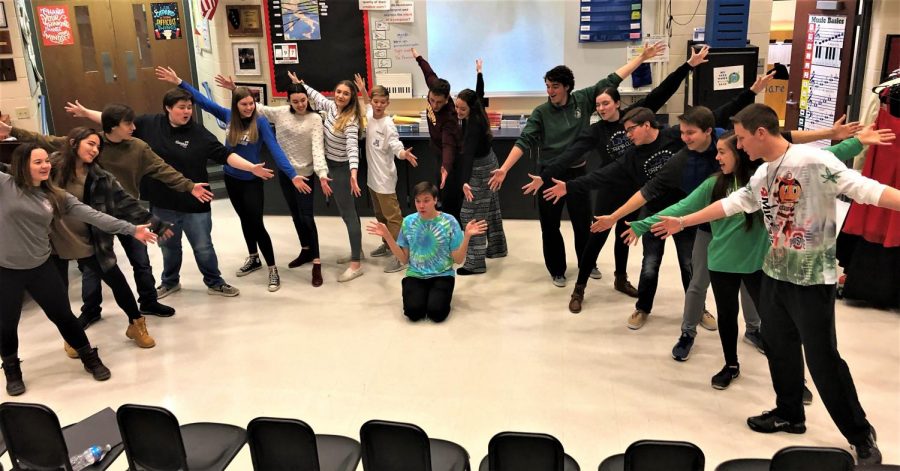 Photo by Rhea Prakash
 It's the most wonderful time of the year; at least for Bare Voices, who will have their annual performances in various locations throughout the community, just in time for the holidays.
The group will be performing at various locations, such as the 'Miracle on Main Street,' 'Ela Library' and 'Culvers' all throughout the holiday season.
"Having a group come out from the school to sing to the community is also a sign of good will," Nick Juknelis, Bare Voices teacher, said. "[It's] our way of giving back to the community is to go out and perform for them," 
Each performance helps to show the connection between the school and the community, says Juknelis.
"Goodwill between the school and the community is really important to me, especially being a community member myself […] if you come back and see us, it'll grow and change and be different," Juknelis said.
Some of the songs that Bare Voices performs includes a Hanukkah and Christmas arrangement, and it's something that everyone in the community can enjoy, according to Teah Mirabelli, senior Bare Voices member."
"The last time we sang for someone this year, we sang at Mount Saint Joseph," Mirabelli said.  "It was humbling singing for them and brought [them] a lot of joy," 
The recognizable song selection will help establish a connection between the audience and the performers, says to Griffin Brown, senior Bare Voices member.
"This is kind of cheesy, but music has a way of reaching people that talking to them doesn't," Brown said. "Especially with holiday songs, the music that we do, everyone [can] be apart of and hold onto that.
In order to create such an experience for their audience, Bare Voices has been rehearsing for these performances since October 1st, practicing everyday in class leading up to the performances, says Juknelis. According to him, practices are worthwhile in the end because of their audience's reactions.
"I would like [the audience] to take away that we like what we do, and we like being able to share that gift with the community," Juknelis said.
But before every performance, the students have to deal with many nerves. According to Juknelis, however, these nerves help the students get focused and energized ahead of their performances, because "they do better with nerves and the thing that might affect them more is being tired…it's also a busy time of school with lots of tests before break, charity bash activities; they're being pulled in a lot of directions."
However, even despite the pressure of performance, Mirabelli says that she still enjoys what the group does, especially when it comes to variations of songs that are unlike what is being played on the radio. This year, the songs being performed include 9 holiday pieces that are all acapella. Some of the songs performed are 'You're a Mean One, Mr. Grinch' and 'The World For Christmas.' 
The performances that Bare Voices puts on are not just for the audience, but also for the group themselves. Brown advises that every Bare Voices member should enjoy what they do because "the performances are truly unlike anything else you get to perform for the community."